Former FRP leader Siv Jensen takes a firm stand against his predecessor Carl I. Hagen in his new biography.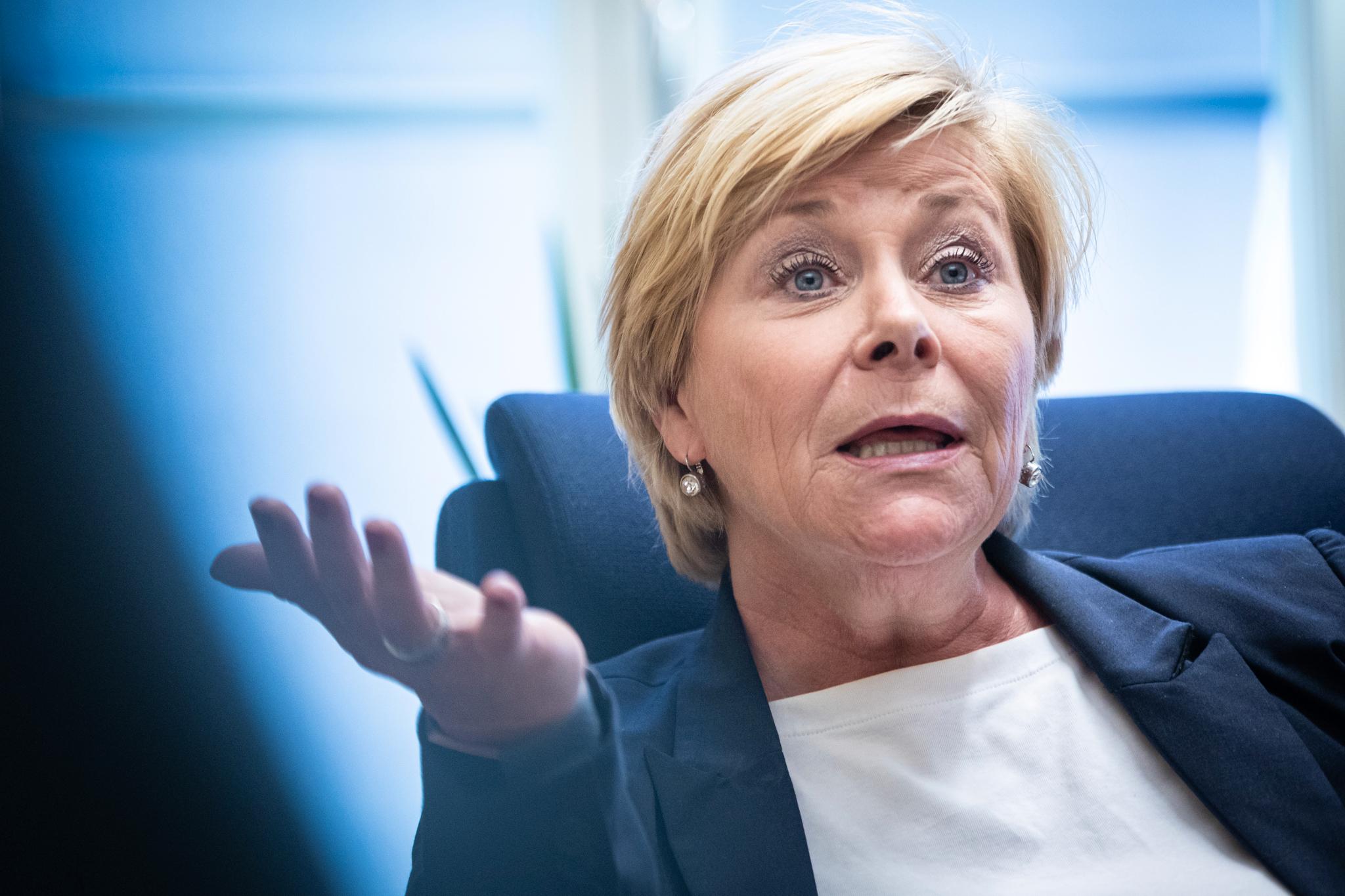 Former FRP leader Siv Jensen arrived Tuesday with his autobiography.
There she is open about her career and her partners. And share new details about what happened behind closed doors during several major political affairs in recent years.
Listhaug's Facebook post irritated Solberg
On Friday, March 9, 2018, Sylvi Listhaug posted a photo of foreign fighters on Facebook with the following text:
"The Labor Party believes that the rights of terrorists are more important than the security of the nation. Like And Share."
It unleashed a political storm against Listhaug and the government. Then Jensen and Solberg sat down at a budget conference in Hurdal.
– The case far overshadowed the entire budget conference. In the press session I had with Erna and Trine, there were more questions about Sylvi than about the state of the Norwegian economy. That irritated Erna and she repeated several times that she didn't like Sylvis's Facebook post, Jensen writes.
She herself was "reluctant to take the time to post on Facebook" as three days of tough budget negotiations awaited her. Jensen writes that he had close contact with Sylvi throughout the drama and they agreed that he had to apologize.
– I don't sit down and approve of people's Facebook statuses and hadn't seen Sylvis's post before it was published, says Jensen, who "must admit I didn't see the explosive power of it."
He takes the reader to the prime minister's residence on Monday, March 19, when Prime Minister Erna Solberg, Liberal Party leader Trine Skei Grande, Jensen and a close adviser met.
– The atmosphere was calm, but clearly characterized by seriousness. It could go against a government crisis if the vote of no confidence won the majority. Sylvi had a separate meeting with Erna, and Sylvi and I also had a four-way conversation. She was clearly upset, stressed, and unsure of the whole situation, it is said.
Jensen "didn't want to put words in Sylvi's mouth", but Jensen "thinks he understood that he had no choice but to withdraw."
Prime Minister Erna Solberg, on the other hand, declared "that we, as a government, should support the Minister of Justice, but that Sylvi had to decide what she wanted to do."
– No one in the room pressured Sylvi to quit, writes Jensen. He went home and continued to work with Secretary General Fredrik Färber and Secretary of State Petter Kvinge Tvedt throughout the night with a message.
After midnight, Listhaug called and told Jensen that he had decided to leave.
– Sylvi impressed me. In a situation where she had the government behind her, she still decided to resign. He didn't just take one for the team, he took one for the country. Erna would have been behind her, Jensen writes.
"When I took over as party leader after almost three decades with Carl, it was with a bit of uncertainty. Could the party founder keep his fingers off the plate? Collaboration for the first few months went politely well. But I finally realized that the fear was real: Carl didn't want to let go. "
So opens the "Carl and Eli" chapter of Siv Jensen's recent biography.
The editor describes it as Jensen's "ruthless settlement".
"We came to the conclusion that we had to divert Carl; give him something to keep his fingers in. Thus, we built the Superior Organization of the Progress Party. We didn't really need that level, but we fixed it, also so that Carl would get money. "
And she continues:
"Carl has always been concerned about his private finances, perhaps a bit disguised as a politician who has apparently been interested in the cause of the little man."
Jensen further writes that they did their best to give Hagen the stands he wanted.
"In all my speeches at national conferences, and on other occasions when it was natural, I paid tribute to him. However, Carl and eventually Eli also became more and more petty in their attacks. "
– I cannot speak now, writes Carl I. Hagen in an SMS to Aftenposten.
"No comment!" he follows at 08.23.2020.
Hagen regretted it
Siv Jensen writes that Hagen as early as the summer of 2007, a year after being elected, told her that she did not believe she would meet her goals.
He learned about this from then party secretary Geir Mo. Hagen is said to have said that Frp could have received 30 percent in municipal elections if Jensen had listened.
Hagen is also said to have said he regretted handing over the party leadership position to "a girl like me." Jensen was only 36 when he took over as party leader after Hagen.
Siv Jensen pays tribute to his predecessor at this time as the leader of the party and describes him as one of the greatest Norwegian politicians of all time.
"But all the rubbish he's dealt with afterward, and the way he's behaved
in public, he has ruined his legacy, "writes Jensen.
He also criticizes the fact that he ran in both Oslo and Oppland in the 2021 elections. Hagen lost the battle for the nomination for third place on the list in Oslo, but was nominated at the top in Oppland. Hagen is now back in the Storting after being elected to an equalizing term.
– Sylvi impressed me. In a situation where she had the government behind her, she still decided to resign. He didn't just take one for the team, he took one for the country. Erna would have been behind her, Jensen writes.
It was Listhaug's political opponents who "had made the connection with Utøya, Sylvi had never thought in those terms," ​​according to Jensen.

www.aftenposten.no