The 33-year-old came from war-torn Chechnya and dreamed of becoming an actor. – He was definitely on the road to recovery a year ago, says one of the experts who evaluated the 33-year-old.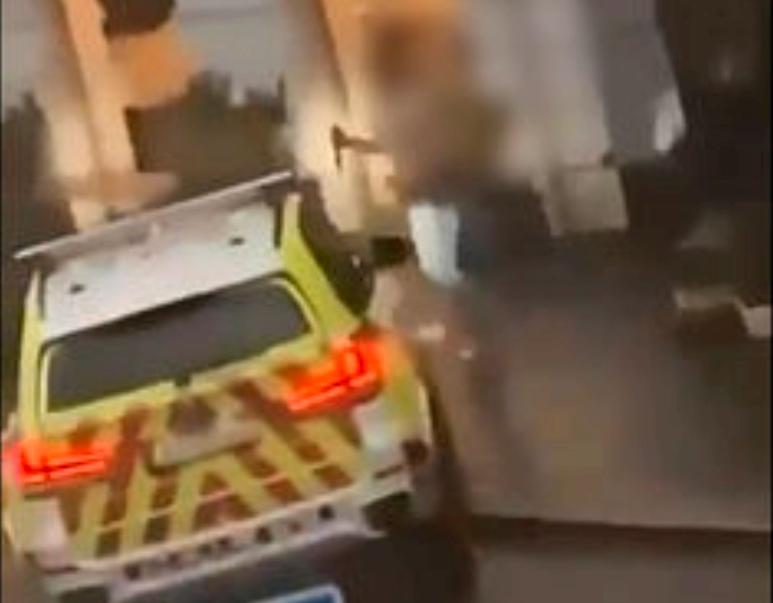 With his upper body naked, waving a knife in his hand, the 33-year-old was struck at least twice by the police car at Therese Gate by Bislett in Oslo. He yelled at the police. The last time he was thrown into an entrance hall. Then the man attacked the police.
The incident is captured by several witnesses, some of whom film what is happening. Several shots are fired that hit the man. The 33-year-old Chechen will be confirmed by police shortly after being confirmed dead. A policeman was injured.
The Therese Street episode takes place eleven months after the man was sentenced to mandatory mental health care in the Oslo District Court. How could that happen?
He was on short leave, Police Inspector Grete Lien Metlid of the Oslo Police District said during a press release on Tuesday. The license began Monday, Metlid said.
During the leave, he had to stay at an address close to the place.
– I can not say anything about the reason for the license, says Metlid.
There has recently been an immigration case with a view to deporting the man from Norway, according to police. They think he's from Kazakhstan.
It is too early to conclude on why, police say. But they are following in the footsteps of your mandatory mental health care story.
From Chechnya to the Theater Academy
The 33-year-old man was born in Russia in the late 1980s, according to the National Register. Specifically in Grozny, the capital of Chechnya. He is said to have emigrated to Norway alone, according to several people who have met the man on several occasions.
In his 2019 forensic psychiatric assessment, experts note that he has had a "difficult and traumatic childhood and adolescence." He grew up in war-torn Chechnya. From what Aftenposten knows, he lost several members of his family in the war there.
– He said that his father died in the war in Chechnya and that he had had terrible experiences there, says his friend Aslan Khatuev in Porsgrunn.
On Tuesday, he posted a final greeting to his friend on Facebook: "May Allah forgive all your sins brother! It hurt me to hear." Khatuev says the 33-year-old struggled with both alcohol and drugs, which could lead to him to change your personality.
"Once, after a party in Oslo in 2017, I woke up to see him standing next to me with a knife pointed at my face," says Khatuev.
– He seemed completely lost and it was difficult to understand his behavior, he says.
After the dramatic episode of the knife in Ankerbrua in 2019, when the man was admitted to a psychiatric ward, the contact was reduced. But they last had contact just over a week ago.
– Then it seemed perfectly fine, says the Chechen comrade.
In Norway, the 33-year-old must have done well until 2014 and 2015. He entered the Art Academy and spent two years there. He dreamed of becoming a Hollywood actor, Aftenposten is informed by a person who knew the man.
But then education stopped. As reported to Aftenposten by people who knew the 33-year-old at the time, he was expelled from the school.
Experts last year: should be followed up for several years.
One morning in June 2019, large police forces withdrew when there were reports of a man threatening people with a knife in Grünerløkka. Before the police arrived, a person had been stabbed. In addition, several had been threatened with a knife. The man was quickly arrested after police used an electro-shock weapon.
The Russian citizen was sentenced in the district court to compulsory mental health care. During the trial, he claimed not to remember what happened on the morning of that day. The night before, he had been in town and was using cocaine.
The man has been convicted several times. These trials show that the man has often ended up in difficult situations and / or committed crimes while addicted to drugs. In 2014, he was arrested after he refused to follow a police order to leave an area in Oslo. Eventually he was transferred to the emergency room at Ullevål hospital. When he regained consciousness there, he was so physically outspoken that six policemen had to restrain him. A blood test showed he had a blood alcohol level of 2.2 and traces of amphetamine, ephedrine and cocaine were found in his urine.
Experts who examined the 33-year-old in connection with the Grünerløkka episode in 2019 believed that the worst that could happen to the 33-year-old was that he abandoned psychiatric treatment, fell socially and became intoxicated. If it happened, experts feared that episodes similar to Grünerløkka's could happen again.
"For your disease to have the best possible prognosis, it is important that you have close contact with the mental health service for a long time, read: several years," the ruling states.
Expert: – Must have gotten sick again.
Randi Rosenqvist, one of two experts who evaluated the man in connection with the criminal case last year, says health trusts pay special attention to those who have been sentenced to mandatory mental health care. She tells Aftenposten that you can't always tell what is going well and what is not. Aftenposten spoke to Rosenqvist before it was known that the 33-year-old was on leave.
– Are you surprised that this patient is out so soon after the verdict of December last year?
– I'm not surprised. When the verdict was handed down in December last year, he had been ill for a year and a half. Before the verdict came, he was much better. That it is established in the house a year later, it does not seem strange to me. He was definitely on the road to recovery a year ago. A year is not a short time, when it has improved. He must have gotten sick again, Rosenqvist replies.
– Sound like a difficult case?
– It is difficult to treat schizophrenia, but most schizophrenic patients will have periods when the disease gets worse and periods when you get better. And it is politically agreed that schizophrenic patients should stay home as much as possible.
– Do you agree with that policy?
– I have been concerned about how degraded psychiatry is and I think one should have had a longer stay in the hospital. I think the bed capacity in Norwegian psychiatry is too low. And I understand that the chief doctors discharge patients when they have to make beds for free. But those who are sentenced to compulsory mental health care are far from being printed.

www.aftenposten.no