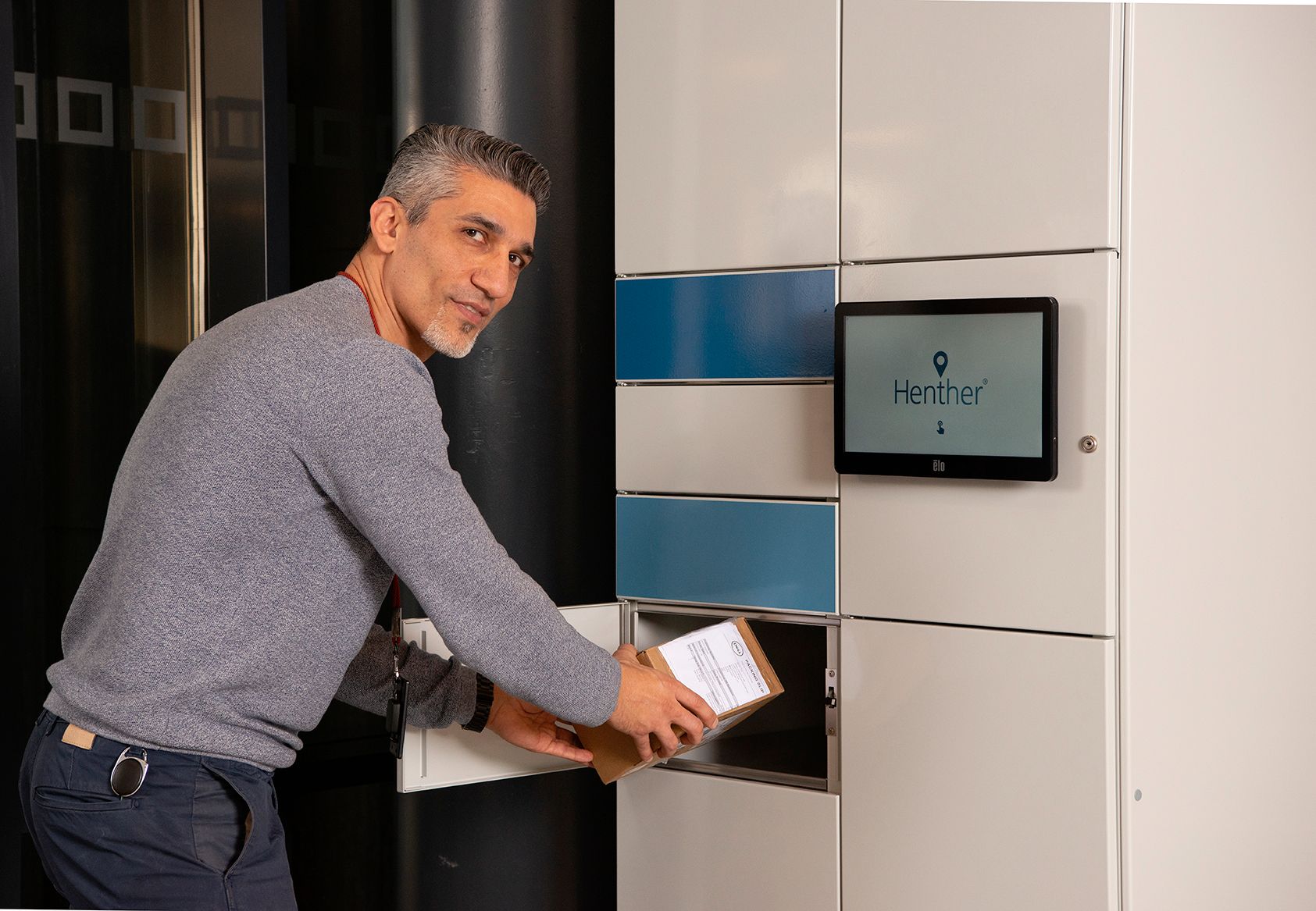 Not only does Henther free up their self-service collection resources at the time of delivery, they also improve traceability, save companies a lot of money, and are completely contactless.
Advertiser content produced by Schibsted Partnerstudio
– Finally, we can deliver equipment to employees in a completely secure way, says IT director Tord Tjeldnes from the University of Agder (UiA).
In a completely digital and seamless way, Henther breast collection points It is possible to distribute packages internally in a company: the end user places an order for, for example, a new charger, which is then placed in a reserved room. As soon as the cabinet door is closed, a pickup code is sent to the end user by SMS indicating that the charger is ready for pickup.
The University of Agder has used Drammen-based technology from Henther in the middle of the pandemic.
– With many in the home office, it was a challenge to safely deliver equipment to employees. We ended up placing the equipment on a table that many had access to, continues Tjeldnes, adding:
– Of course it didn't work in the long run. You can't put expensive equipment or anything that contains sensitive data in a common area.
Learn more about Henther's digital collection points
Self-service and digital
They became the solution for the University of Agder Henther self-service pickup points. UiA has 2,200 users on its system, but also significantly smaller workplaces will greatly benefit from the digital retrieval system.
– A collection point is a place where you can collect your pre-ordered items. To this day, this is often done by a person delivering merchandise or having to pick something up at a service counter within specified opening hours. We wonder why this is not self service. Our answer was Henther's pickup point, says General Manager and Owner Joachim B. Hansen.
Henther manages the loan of equipment and consumables internally and guarantees good traceability. Cabinets come in different sizes and are built so that you, as a customer, get a completely accurate description of who pulled what.
– It really is an absolutely ingenious system that I would have liked to see and that we would have used a long time ago, says André Roshan, developer of the IT department of UiA.
It's just as easy to put packages in the cupboards as it is to remove them. Everything is contactless and digital. The recipient will be notified by SMS as soon as the package has been sent.
Various uses
Roshan lists several ways that UiA employees, and eventually students as well, can benefit from collection lockers:
Get new equipment.

Return defective equipment that needs to be repaired, then collect it again.

Pick up and deliver loan equipment.
– This solution is also absolutely excellent in terms of infection control and contactless delivery, emphasizes Sijamek Nuri, head of IT department at UiA, adding:
– Those who are going to collect something, can do it just when it suits them. Totally without queuing or interacting with the opening hours of the university. It really is a flexible solution for both the company and the employees.
UiA has chosen to fully integrate Henther into its ServiceNow platform. This integration is also possible for other clients.
– By building a seamless integration between our platform and Henther's solution, we have now managed to digitize and automate the last piece of our digital workflow, precisely the delivery and delivery of goods. Henther's opportunities for integration, competition, and the desire to tailor its solution to meet UiA requirements have been critical to our choice. Nor do we send SMS to end users, but email, continues Nuri.
At UiA, the collection points are indoors, but they are also certified to be outdoors.
Do you have any questions? Contact Henther for a no-obligation conversation!
The largest in Norway
The founders of Henther have been working with industrial lathes since 2015, where they are now market leaders. Henther is one of the products included in Cuboid technologies your rank.
– Upon Vending machines our end user can easily take out the consumables; everything from small things like gloves and nuts to larger tools. Withdrawals are recorded in person and at the diet center, so withdrawals are transparent and easy to process later, explains Joachim B. Hansen.
Read more about Henther vending machines
Henther has extensive experience combining loan cabinets with vending machines.
– We know that by using such a system, you will reduce consumption by up to 40 percent. Now it no longer happens that, for example, expensive drills disappear, Hansen adds.
Can also be used remotely
It was then that entrepreneurs saw the need for companies to also need an item loan system, which they developed collection points.
– In addition to the fact that our collection points can be used for the internal flow of goods in a company, they can also be used by people outside the company. Our philosophy here is that "anyone can deliver to anyone".
– In practice, this means that you, as a postman or driver, can choose who in the company will receive the package from a drop-down menu. As the recipient, you will be notified that you have a package on hold. Anyone who has stored something in the closet will also receive a notification when the package is picked up. This ensures a good flow of communication at all stages.
Top-of-the-line Norwegian support
– If we have learned anything from the pandemic, it is that it is not always just about buying goods or systems from abroad in terms of support and monitoring. We are based in Norway and we already have many hundreds of systems spread across the country, Hansen continues.
He says the Henther team gets a lot of positive feedback that they have local customer service and can easily answer customer questions. The University of Agder can sign it at:
– The Henther team has strong technical knowledge and competence in what they are doing. Collaboration with them has been very good, says Mariela Hristoforova Dimitrova, purchasing manager in UiA's IT department. She continues:
– Henther has been so flexible and solution-oriented, which is why we are now happy that all of our employees, and ultimately students, enjoy and benefit from the system.
Are you curious if this is something for your business? Read more about what Henther offers.

www.aftenposten.no