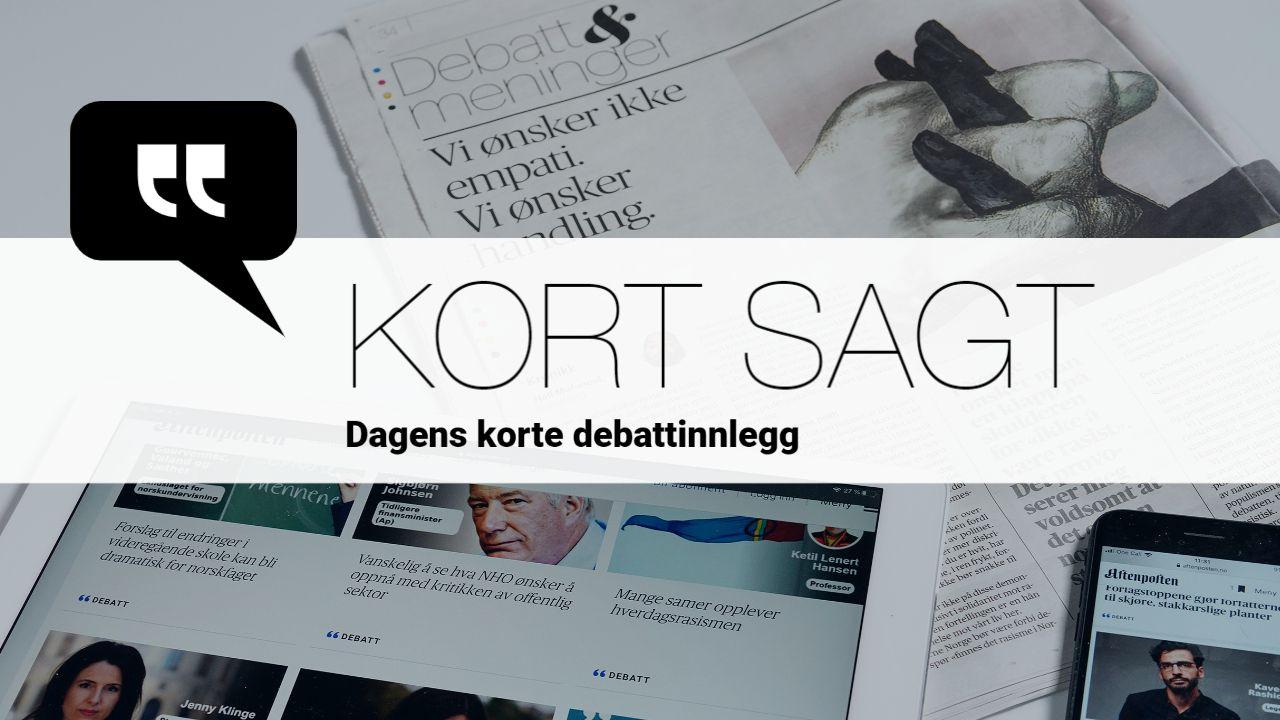 Architecture and drug policy. Here's today's postcard!
Debate
This is a discussion post. Opinions in the text are the responsibility of the writer.
Categorical about the Munch Museum
The Aftenposten editorial for Monday, November 8, begins with the Munch Museum's indoor climate issues, but also goes through the National Gallery. Those who fought for the continuity of life in the National Gallery museum had "insufficient knowledge of heating, ventilation and sanitation technology," writes Aftenposten.
It's that easy. They should be excused for being simply ignorant.
Is Aftenposten familiar with the Solberg government? Declaration of Jeløya Who said they would keep the National Gallery as an art gallery? Or that the Sparebankstiftelsen and the National Museum were commissioned by the Ministry of Culture to prepare a feasibility study for the use of the building?
Part 1 of the study explains the issue Aftenposten is concerned about. The study is based, among other things, on statements by Swedish ventilation experts, which were used in Stockholm, when its National Museum was renovated in 2018.
They say that art can be exhibited there for another hundred years, in a building that is technically similar to our National Gallery. When did Aftenposten's lead writer become an authority on ventilation in old museum buildings?
It can appear compelling when an editorial exudes confidence. But perhaps a lead writer for Aftenposten shouldn't be too categorical. Or say that the person you disagree with is emotional and lacking in knowledge.
Ulf Grønvold, historian of architecture
---
Inaccurate on drug policy
It's hard to understand where Helge Waal and Thomas Clausen of the Center for Drug and Addiction Research will go with their November 8 article.
The proposed drug reform had room for improvement. The punishment would be replaced by compulsory attendance. Major sales and seizures would be punished as before. But it was not praised. The Solberg government model involved a decriminalization of use and possession that could work within existing political frameworks. And 100 million went to new advisory units.
The history of the penalty line is also inaccurate. It is true that it was imported from the United States, but long before the 1980s. The Storting approved increases in the sanctions framework in 1964, 1968, 1972, 1981 and 1984, but since the 1990s there has been an operation of gradual change.
The article gives the impression that the reform did not go far enough, while the authors previously seemed opposed to going down that path. In return, they point out that heroin-assisted treatment is a sign that you are heading in the right direction. Previously, they were the most prominent opponents in the country.
Now they have accepted the decision and have sat in the driver's seat to build a model for the prescription of heroin and the research on it. This illustrates exemplary adaptability, but this was a bit confusing.
Arild Knutsen, Leader of the Association for Humane Drug Policy
---
Drug reform is not praised, but misunderstood
Drs Helge Waal and Thomas Clausen say drug reform would change little, but they overlook crucial legal issues.
One of the most important consequences of drug reform is that the public sector would have trapped many more users. This is mainly due to the burden of proof in criminal cases.
To establish criminal guilt, evidence beyond a reasonable doubt is required. But recently, the Attorney General pointed out that forced rust tests and intrusive searches are unconstitutional and human rights violations in the case of less serious drug offenses. Therefore, users must now confess, openly take drugs, or have drugs in their pockets when the police find them, in order for their guilt to be proven.
Those who are found after using the drug and have the remaining drug at home, in the car or in their underwear, go free today if they refuse to use it. This limits the right of the police to impose alternative punitive measures, such as a urine sample contract or counseling in municipal drug units. Because this also presupposes safe tests.
Drug reform would have solved this problem by reducing the burden of proof. This can be done when punishment is not possible. The police could then have ordered users to come for advice in the event of a probability of being overweight. This would be possible as long as someone appeared to be drunk and did not want to refute the suspicion with a saliva sample.
While most of today's suspected users can go free, drug reform would have ensured that mandatory talks are imposed on them and more help is offered. Punishment and searches would not only be replaced by constructive reactions. But much more than now would get a reaction, as decriminalization, paradoxically, had made the ban enforceable.
Dagfinn Hessen Paust, Criminal Lawyer and Subject Leader, Safer Drug Policy
---

www.aftenposten.no