Based on an elements factory in Frekhaug, the investment fund Investinor will build a large new timber industry with headquarters in Bergen and international ambitions.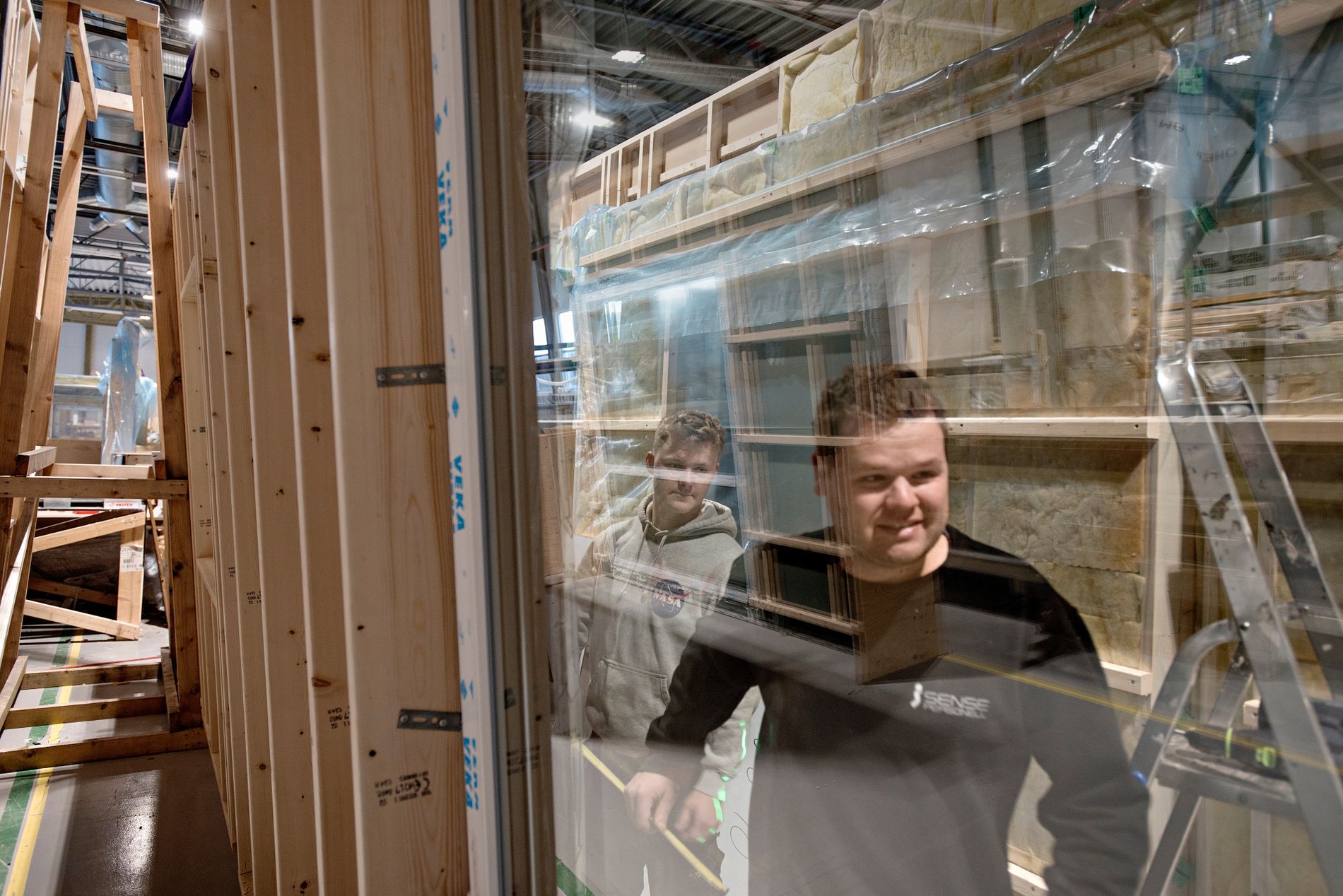 In 2019, Erna Solberg opened Norske Elementfabrikker AS (NEFA) in Frekhaug in Alver. The state-owned investment fund Investinor has acquired up to 48% ownership of the Alvergruppen factory.
Together, Alvergruppen and Investinor founded the company under the ambitious name Store Norske Elementfabrikker AS (SNE), which will be based in Bergen. And if things go their way, fewer and fewer carpenters are installing insulation and cladding in the rain and wind on European construction sites.
Wood construction industry
– We have NOK 500 million to invest in the forest-related sector. Here we will work towards an industrial investment in wood, says Investinor's Stig Andersen.
Investinor also owns a large part of the solid wood manufacturer Termowood AS (TEWO) in Hurdal, which is also adding to the investment. This business delivers, among other things, fir walls to the new government district.
The goal is strong growth of existing companies. But also growth through acquisitions or mergers with other companies. The investment is aimed at a multi-billion dollar international market.
Norwegian element factories also do special work. The video shows a strawberry working with the corner of a book.
– Leading industrial player
– Wood is much more sustainable than other materials and is growing strongly. We will build a leading industrial player, says Andersen.
At the Frekhaug factory, eleven men now work one shift. Finished, insulated wall elements, doors and windows are made at high speed on assembly lines. The finished walls for the new building at the Minde dairy site in Bergen are now lined at the end of the production line.
Factory manager Robert Stavenes points out a number of advantages to this form of construction: you get a dense building quickly, you save time on site, and fewer carpenters are needed outside.
– Reduces the cost
– This is no less important in an age with a shortage of artisans, says Stavenes.
The daily leader in Alvergruppen, Thomas Nesheim, speaks of the great interest in the market and lists several of the main construction companies in the client list.
– Our production contributes to more climate-friendly buildings and reduces costs in the industry. Wooden buildings also have a better indoor climate that is good for public health, says Nesheim.
The parties note that the new government on the Hurdal platform announces a strong investment in our forest resources.
Want more processing
Investinor's Andersen says Norway is way ahead when it comes to the forestry industry, but the goal is always to increase processing.
The investor acquires new businesses, often at high risk. They then develop the company for five to ten years, before they sell out.
Sustainability and climate are critical to the investments they make, but Andersen realizes that all investments must pay off.
– We would never have invested in something that is not sustainable today. Now the building is made of wood and the forest is processed with the wind, and we will be part of that journey, says Investinor's husband.
Andersen points out that the production of elements has long prevailed in the concrete industry and believes that the wood industry should have the same development.
Enterprising people in the west
– We know the environment, and it is very exciting when it comes to building with wood. At the same time, the demand is increasing. Therefore, it is important to build a great Norwegian player there.
– Why does the choice fall on this Frekhaug factory when it comes to investing a lot?
– We have had contact for a couple of years and they are talented people. They have proven through the factory here, that they have a good order book and are on their way to profitability after a short time, that this will do them. And that they will be very good partners.
– Much of the timber industry has traditionally developed in Austland. Isn't it a bit strange then with this investment in western Norway?
– I think there is a cultural difference and that we often find more enterprising people here in the west. And the most important thing for us is having the right people with us, says Andersen.
Read on E24 +
Corvus plans to move to Bjørnafjorden
also read
Believes Norway has saved the rainforest equivalent to 50 percent of Norway's emissions every year
also read
Mowi pays 724 million in dividends: raises sacrifice targets

www.aftenposten.no