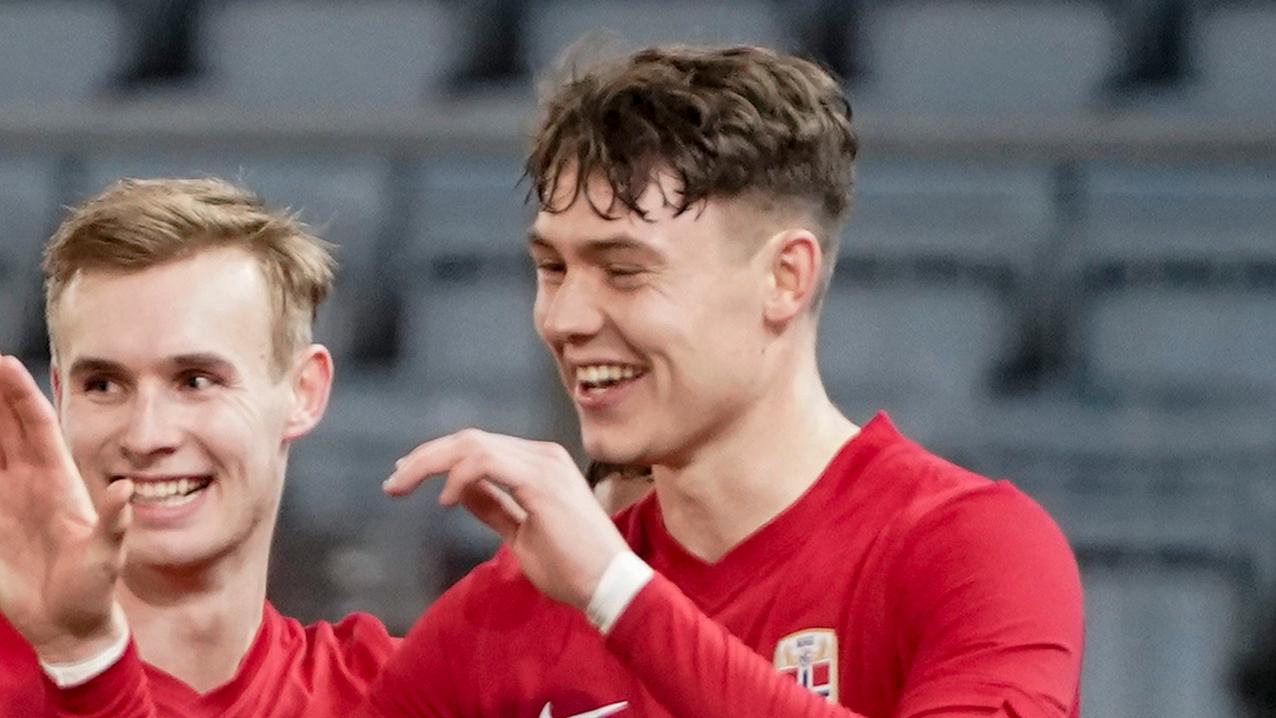 DRAMMEN / OSLO (VG) (Norway U21 – Finland U21 3–1) Jørgen Strand Larsen (21) won the match as the Norwegian U21 team took a major victory at Marienlyst.
Aftenposten collaborates with VG-sporten. Therefore, as a reader of Aftenposten, you also get articles and services created by VG.
The Norwegian U21 national team keeps pace with Croatia in the battle for a place in the U21 European Championship in 2023 after being 3-1 at home against Finland.
After a goalless first half, it was Groningen forward Jørgen Strand Larsen who appeared in the second half. After ten minutes of play, he put the ball inside the area and, with his back to the goal, he tilted the ball well over the Finnish goalkeeper and got it into the goal.
The same man was safe from the penalty spot after Erik Botheim was thrown to the ground a few minutes later and sent Norway 2-0.
– I feel relieved. You are always a little nervous when you play. Today I think we were a little nervous for the first half hour and we did not go out as we wanted. But in the end we were left with three points, so it's incredibly nice, Strand Larsen tells VG.
– I was on fire last year, and then it's been a bit chubby lately. There are many reasons for that, but to score goals, I can. I'll keep doing it in the Under 21s and then I'll try my best at the club, says the 21-year-old.
Hear what Strand Larsen had to say about the first goal:
– It is a tough team that we find ourselves. I understand why they have won so many points and they have beaten Austria at home. It's full throttle and high intensity, but I think we can match them throughout the game. They get more and more tired, and then we have enough quality to win the match, Erik Botheim tells VGTV after the match.
Botheim had a blast in connection with the penalty situation.
Here's what he had to say about the possible injury after the match:
Strand Larsen has thus scored four goals in Norway's qualifying group, but was substituted with about 20 minutes remaining. Norway then appeared to be in full control of the victory, but in the 74th minute of the match, Finland had a free chance.
A weak pass from Kristoffer Klaesson landed right in the legs of Anssi Suhonen and from 25 meters the midfielder sent a clever shot that went to the root of the post.
– This is not the way to do it on the international stage, Kristoffer Klaesson, said VGTV expert commentator Joacim Jonsson after the score.
HEALTH: Jørgen Strand Larsen celebrates the first goal of the match with Osame Sahraoui.
1 of 3Photo: Terje Pedersen
In the final minutes, Finland had several good chances, but they did not pass the ball to Klaesson. Instead, it was Johan Hove who scored the last goal of the match in the final minutes with a clever free kick. Thus, Norway stayed away from a 3-1 victory at Marienlyst, which means they are with four wins in five games and are three points behind group leaders Croatia.
Five games remain for Norway in the group stage, including a home game against Croatia on June 2. Only the group winner will go directly to the European Under-21 Championship in 2023, while the group runner-up will go to the play-offs. Norway and Austria currently have twelve points, but Austria have played one more match than Norway.
– Now Austria and Croatia will meet twice before we meet Austria in March. The most important thing now will be to travel to Azerbaijan, adjust, play a good game and score the points. Azerbaijan won points against Finland so it will not be an easy battle, but we will have three points from there, says U21 coach Leif Gunnar Smerud.
Norway U21 will play Azerbaijan on Tuesday February 16 and will be broadcast on VG + Sport.

www.aftenposten.no