Rising infection rates and increased hospitalizations are worrisome. These are the measures that the government has now considered.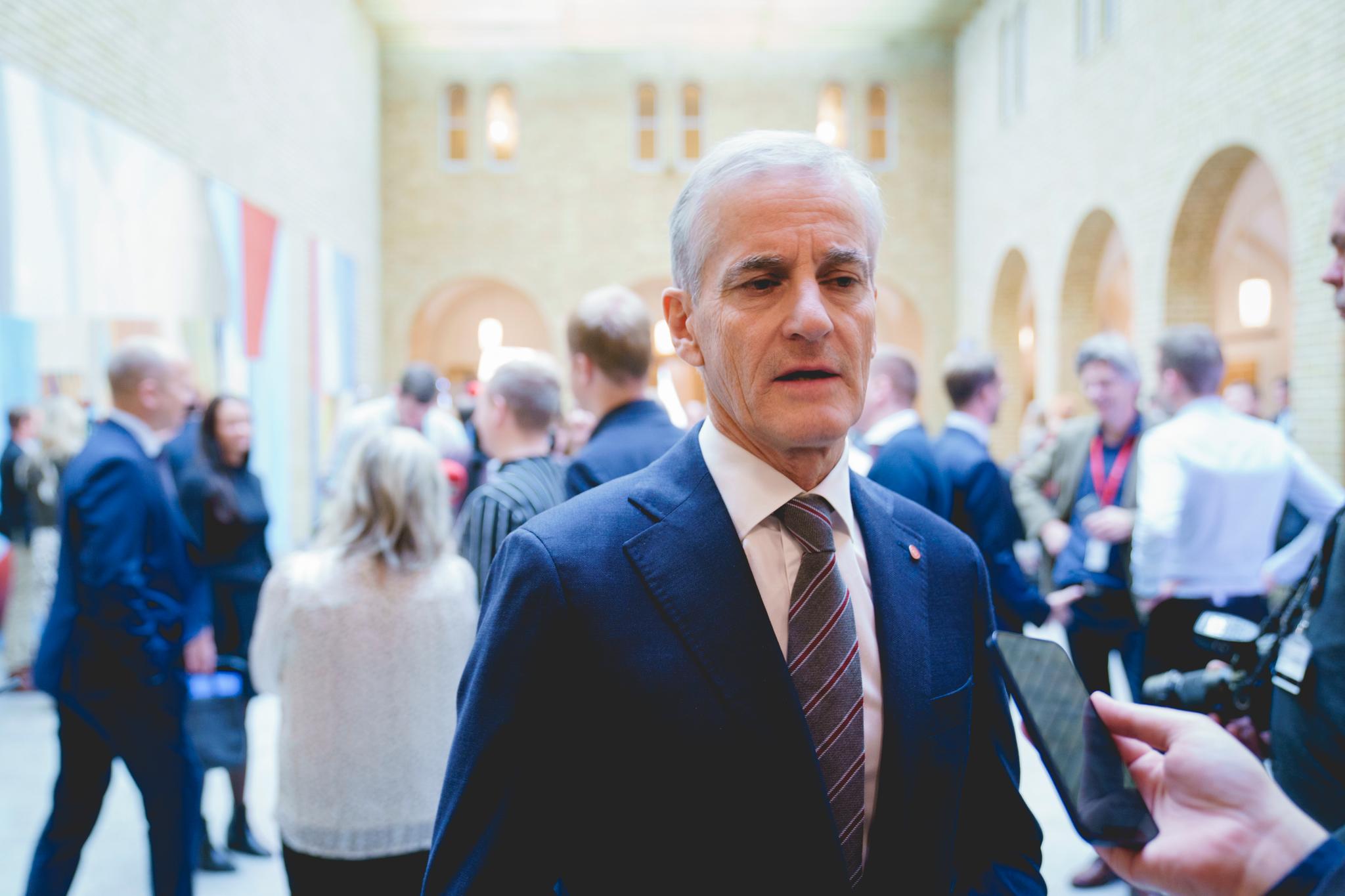 Arnhild Aass Kristiansen

Journalist
On Tuesday, a new infection record was set in Norway. In one day, 2,126 new corona infections were recorded. It occurs just a month and a half after the nationwide reopening was celebrated.
On Friday, for the second time this week, more than 2,000 people were infected.
Now comes the government's response. At 12 o'clock, Prime Minister Jonas Gahr Støre (Labor Party) will meet for a press conference with a full team:
The Minister of Health and Sanitary Services Ingvild Kjerkol (Labor Party); Participants will be the Minister of Justice and Emergency Preparedness Emilie Enger Mehl (Sp), the Deputy Director of Health Espen Rostrup Nakstad and the Director of the National Institute of Public Health, Camilla Stoltenberg.
Will not go out
Those who now fear new rounds of intrusive national lockdown measures can probably breathe a sigh of relief.
Deputy Health Director Espen Nakstad told NTB on Thursday that they have not recommended any national lockdown measures now.
Nakstad says they have advised the government on measures in these areas:
Reinforced infection control

TISK (testing, isolation, infection detection and quarantine

Border control

Crown certificate

A third dose of coronary vaccine, the so-called update dose, is also an issue that may arise.
Municipalities are narrowing
But there may be more stringent measures at the local level. In a letter to municipalities, the Norwegian Health Directorate writes that municipalities with increasing infection rates should consider introducing local regulations and specific measures.
This has already happened in some places.
On Wednesday, it was decided to introduce new coronary restrictions in Trondheim. A traffic light model has been introduced in elementary and lower secondary schools, and compulsory bandages have been introduced in public transport. The use of face masks is also recommended in stores and shopping centers.
In Tromsø, a mandate for bandages on public transport and in stores was introduced on Tuesday from Wednesday, as well as requirements for home offices for most people.
Requirements were also introduced for table service for restaurants and events that have a liquor license.
The use of the Corona certificate is considered in Norway
In Denmark, the government will introduce requirements for a crown certificate, for example in indoor restaurants, nightclubs and where people gather closely.
Camilla Stoltenberg, director of the National Institute of Public Health, now says that Norwegian health authorities are also looking at this as a tool to avoid intrusive measures for a longer period of time. The Health Minister has requested that this be investigated before today's press conference.
The coronary certificate shows if you have been vaccinated, if you are immune after having covid-19 disease, and the result if you have a negative coronal test.
– I am very pleased that the government is announcing increased use of crown passports in Norway and Oslo. I'm very positive about it, Oslo City Councilor Raymond Johansen told Aftenposten earlier this week.
New testing regime?
Then the TISK device degraded the government opened the country on September 25. We are now in what is called "normal everyday life with more preparation."
But since infection and hospitalization rates have also increased for vaccinated people, health authorities have seen this again. So far, vaccinated close contacts have dropped out of testing and have been quarantined.
Nakstad has suggested that this is something that can be changed:
– Perhaps more fully vaccinated people should be tested, not just if they have symptoms. If they live with a person with coronary heart disease, there is actually a fairly high risk that they could become infected, he said in an interview with E24 earlier this week.
More control at the borders
Health Minister Ingvild Kjerkol has previously said that the government is considering the following when it comes to measures against infection from imports.
Strengthening the check-in registry.

Border control

Test at the entrance

Quarantine

Follow-up of unvaccinated upon entry
Third dose of vaccine?
People over 65 are already advised to take a third dose of vaccine. This is because the vaccine loses some of its protective capacity over time.
A third dose is also recommended for health professionals with a lot of contact with vulnerable groups. The same is true for people with weakened immune systems.
On Thursday, FHI said NRK They also plan to recommend the third dose to adults under 65. A refreshing dose should not be taken until 6 months after the second dose has been taken. Therefore, it may take a while before this is relevant.
More admissions
Not only the number of infections, but also the number of deaths and hospitalizations increased last week. This is shown in the FHI weekly report.
It shows that 135 new patients were admitted in week 44. The previous week, the number was 111. It is especially for people over 65 that the number of admissions is increasing now.
The number in this age group now corresponds to the highest level in spring 2021.
There were also significantly more deaths relative to the crown in week 44 than in the previous week. A total of 28 deaths related to coronary heart disease were recorded last week, compared with 16 the previous week. This is the same level as in early 2021.
It is especially the hospitalization figures that concern the health authorities and those that make them look again at new measures.
– We have a faster increase in admissions than we expected. A sharp increase that we must reverse, said the director of the Line Vold department at FHI on Thursday

www.aftenposten.no