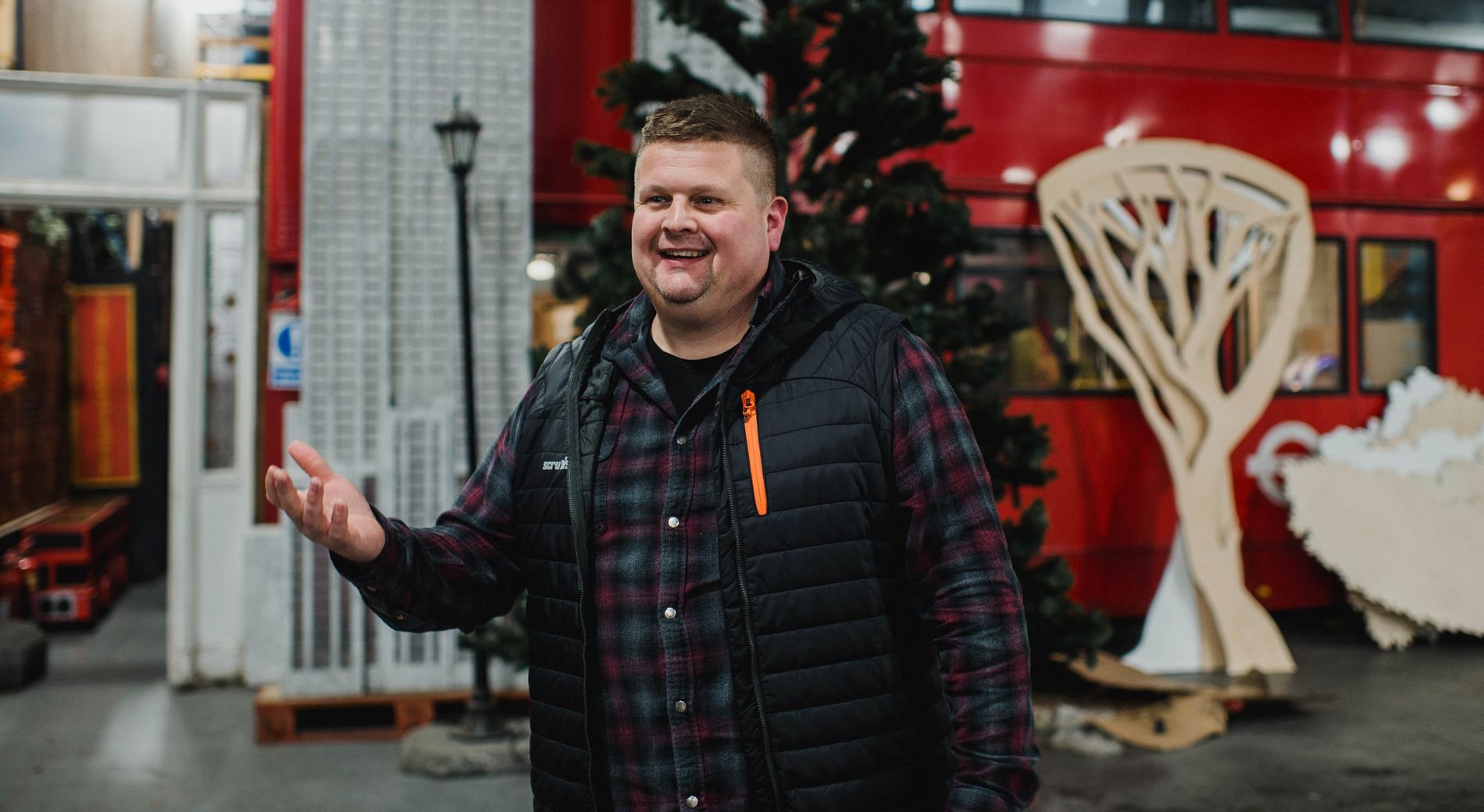 Jannica Luoto
Ross Galbraith receives scrap metal from the Glasgow climate conference and uses it to help people in need. The old industrial city is characterized by a high level of unemployment and poor health.
GLASGOW, SCOTLAND (E24): A ten minute walk from the climate conference in Glasgow, Ross Galbraith stands up and stacks some tree-shaped creations in a huge garage.
Everything here comes from leftover materials. Steel from a local shipyard has been turned into a bar counter, old Christmas decorations for a neighborhood Christmas creations, and old gym equipment has been turned into a gym and boxing hall.
– We accept whatever we can and then figure out the best way to help someone in need, says Galbraith.
For 22 years, Galbraith has run the Glasgow the Caring City charity with his father. They help about 10,000 people each month, both local Scots and refugees from around the world.
Galbraith gives away or rents all renovation equipment, bikes, furniture, and cars.
– Many have struggled to get to work on time due to all the traffic generated by the climate summit. So we've released free bikes, some of them electric, so they can get around, says Galbraith. He himself lives just a short walk from the area.
High unemployment
Since the late 1990s, Scotland's former shipbuilding and mining communities have struggled with unemployment and a high degree of poor health and low education.
The city of Glasgow has it lower life expectancy in Scotland. Men are estimated to be in good health at the age of 54.7 years and women 57.6 years.
The same year that Ross's father founded Glasgow the Caring City, the government initiative The Coalfields Regeneration Trust was established.
– Income level, level of education, health and longevity – all are lower in former mining communities, says Stuart Douglas of the Coalfields Regeneration Trust.
He works for the charity, which invests in local projects that can create new jobs and encourages young people to play sports or get an education.
Even after 22 years of work to improve health, job skills and job opportunities, there are still 5.7 million people in the UK facing significant social and economic challenges.
And now the climate crisis in the form of economic challenges and the frequency of extreme weather will also affect the lives of poor people, Douglas says.
– There are big problems from the past that will haunt us. Former miners don't feel like they are being listened to and are now worried about the changes ahead, he says.
Giant buses
Inside Galbraith's garage, the big London buses are the main attraction.
– It is a simple way to create a study space. You can buy building materials and insulation, or you can buy a bus. And then you park it and go, he says.
Galbraith made a deal with a bus company and bought four buses for the price of two.
The interior has been scraped and redone so that artists, photographers and other creatives with little money can work for free inside the bus. A bar scrapes through a window. There is a packet of Smirnoff Ice on the counter.
"Even alcohol is reuse," says Galbraith, smiling. The police deliver the seized goods to the garage on a regular basis.
Next to a pole is a stack of boxes of disinfectant. Galbraith received it free from L'Oréal company. And in another corner pieces of soap are wrapped. Glasgow the Caring City receives around 2.5 million surplus soaps each year which, in turn, are shipped to developing countries in need.
– We only have one employee, and that's me. But we have many volunteers and great ambitions.
"Just transition"
Both Galbraith and Douglas are fighting for what they call a "just transition", a just transition for people who are out of work or struggling to get a job in Scotland.
– This industrial transformation has been carried out for 40 years. We have moved from coal and ships to new technology, but nothing has replaced all the jobs we lost, says Galbaith.
He stands in the garage's home kitchen and serves coffee as he explains how poverty affects various cities in Scotland.
– I grew up in a time when there was still a lot of activity in the shipyards. But then the politicians closed the mines and the shipyards at the same time, and there were no plans for conversion. People didn't know how to react, he says.
Then-Prime Minister Margaret Thatcher has become a "dirty word" according to Galbraith. Mass unemployment followed. Electricity became more expensive. It still lasts, he says.
In May, Scotland received its first Minister for Restructuring. Richard Lochead will ensure that the green transition is carried out fairly.
– I welcome the idea of ​​a minister of change. Many families are still trapped in that legacy of unemployment and poor health, Galbraith says.
– This with justice and green change must go hand in hand. We must have both.
Climate cleaners and activists
During the large demonstration in Glasgow on November 6, trade unionists and climate activists took to the streets to demand labor rights and climate justice.
Garbage collectors and street cleaners went on strike ahead of the Glasgow climate conference over a wage dispute between the union and the city administration.
– We must clean up the mess after the government, said activist Malcom Strong during the demonstration to E24.
"While everyone applauded the health service during the pandemic, the cleaners picked up the trash without thanking them," Galbraith says of the situation.
He believes that governments around the world must analyze the value of waste and who does something about it.
– We must make better use of waste. Waste can turn into money and money is motivation. If you let people make money from waste, you get a more circular system, says Galbraith.
The consequences of the climate crisis
A live tree has been placed outside the Galbraith exit. The tree comes straight from the climate conference and was one of those seen behind former President Barack Obama in a photo.
Galbraith has a leadership role in ensuring that the conference does not produce waste. Therefore, he accepts all the furniture, trees and creations that are presented to him.
– In my opinion, the climate conference here in Glasgow has failed in the sense that it has failed to show how climate change is changing people's lives, he says.
He believes that there is little knowledge about what the climate crisis is doing to most people.
– And since there is a lack of knowledge about it, people think that climate change does not affect them. But the truth is that it does. It has to do with how electricity prices rise and food becomes more expensive, says Galbraith.
– All these little things are related to climate change, but nobody combines them. We talked more about Biden's private jets and the multi-billion dollar deals. It's no wonder people remain skeptical, says Galbraith.
Over the weekend, expect large amounts of surplus produce that the climate conference wants to get rid of.
also read
Here, coal is still gold

www.aftenposten.no