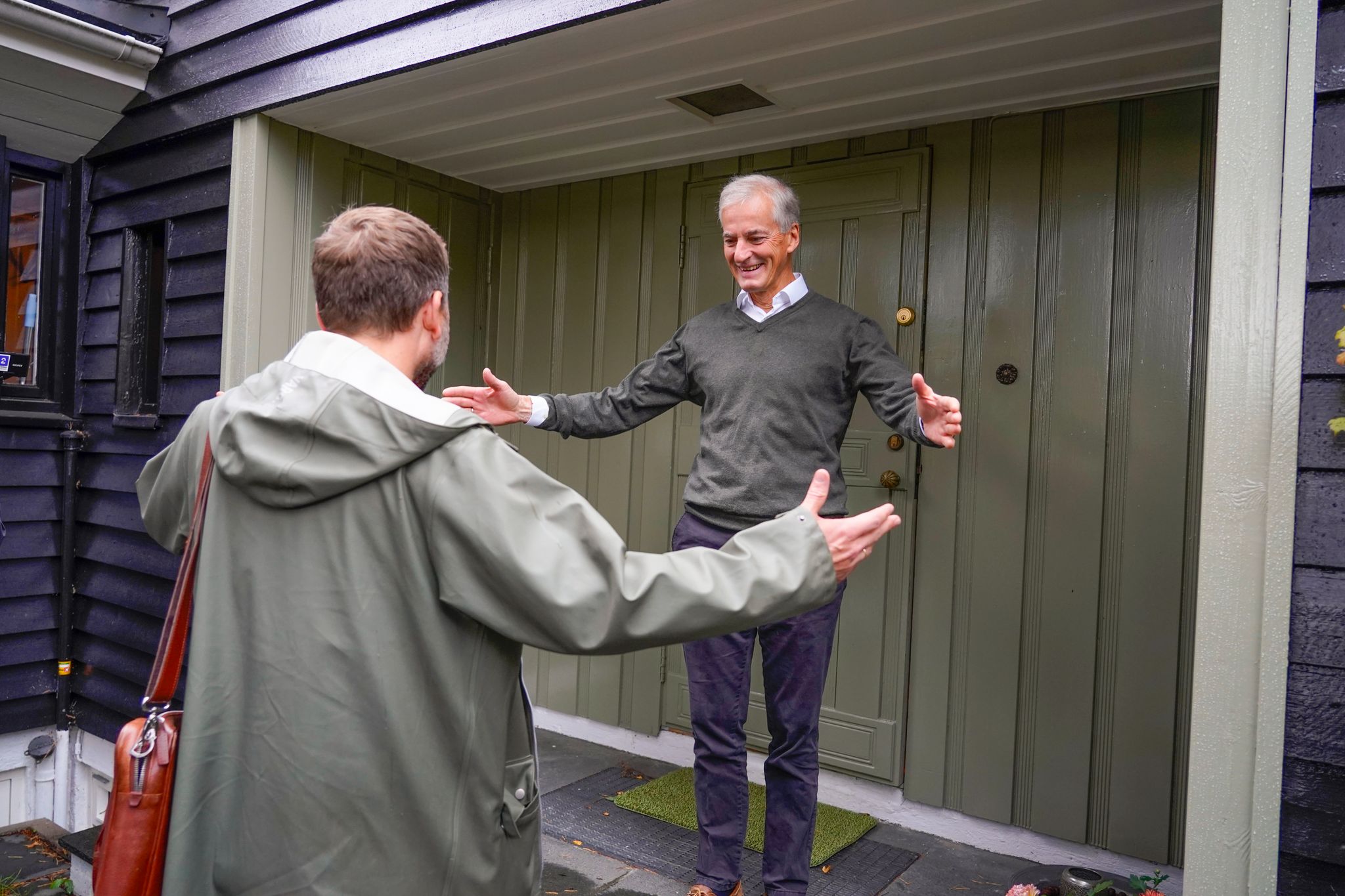 SV leader Audun Lysbakken describes Thursday's meeting with Labor leader Jonas Gahr Støre as good and constructive.
Lysbakken was invited for coffee and homemade jam when Støre welcomed him home to Ris in Oslo at 10 o'clock on Thursday morning.
At 12:30 the meeting had ended and the SV leader immediately notified the press corps that he had stayed outside hoping that they would not receive strangers at the kiosk.
– There are not many news to bring today. But it was a nice and very constructive meeting, we talked openly and well together, Lysbakken said.
– low shoulders
He added that he and Støre discussed politics but did not negotiate.
– We don't find solutions now, but we talk together and find out what kind of starting point we have. That is a good start.
Lysbakken is fighting for SV to be a part of the upcoming government negotiations, but says it is entering the process with low shoulders. He is ready to object if the outcome of the negotiations is too weak.
– We are fine with the time. We take it as it comes and we also give Sp time to think. Today's goal was to get started, he says.
Støre was equally reserved when he walked out the door to speak to the press after Lysbakken.
– It was a nice talk, as it should be. We are having a good time. Now we have had two and a half hours yesterday with Sp and two and a half hours today with SV. It was time well spent, Støre said.
Vedum meeting
The meeting takes place the day after a similar meeting between Støre and SP leader Trygve Slagsvold Vedum, which also included deputy leaders Marit Arnstad (Sp) and Hadia Tajik (Labor Party).
All four have kept the cards close to their chests about what was discussed in the three-hour meeting.
The Center Party is opposed to including SV in government negotiations, while Støre has a red-green tripartite government with a majority in the Storting as its preferred alternative.
After meeting with Vedum and Lysbakken, Støre has yet to conclude whether the dream government is realistic or not.
– I'm not concluding on that now. It is important to both of us that this happens thoroughly and that we talk together in the correct order. When I describe this as time well spent, it means that we take seriously the great mandate that the voters have given, then we will talk about what politics means, says Støre.
Sp-strid
On Thursday, the Center Party will discuss the issue and strategy further at a meeting of the central board.
But also within Sp there is controversy on the matter. Several party leaders, including Parliamentary Vice President Kjersti Toppe, have spoken out in favor of opening the door to the SV.
A survey among the mayors of the SP also shows that many more people say yes than no to the inclusion of SV in the government.
Deputy Leader Ola Borten Moe, on the other hand, would prefer a minority government of the Labor Party and the Socialist People's Party, with SV as the wheel of support.
Meet Moxnes and Bastholm
Gathering activities are hectic for Støre during the day. On Thursday at 3pm, Støre will meet Rødt's Bjørnar Moxnes at the Storting. On Friday at 10 am, he will meet with MDG leader Une Bastholm at his home in Ris.
Also at SV, the gathering activity is hectic. On Thursday night, the national board will be briefed on the process, NTB is informed.
According to the plan, a regular meeting of the national board will be held on Tuesday, September 28, where, among other things, a mandate will be adopted for any government negotiations, but this can be accelerated.
Støre has previously stated that government negotiations may begin at the end of next week.

www.aftenposten.no