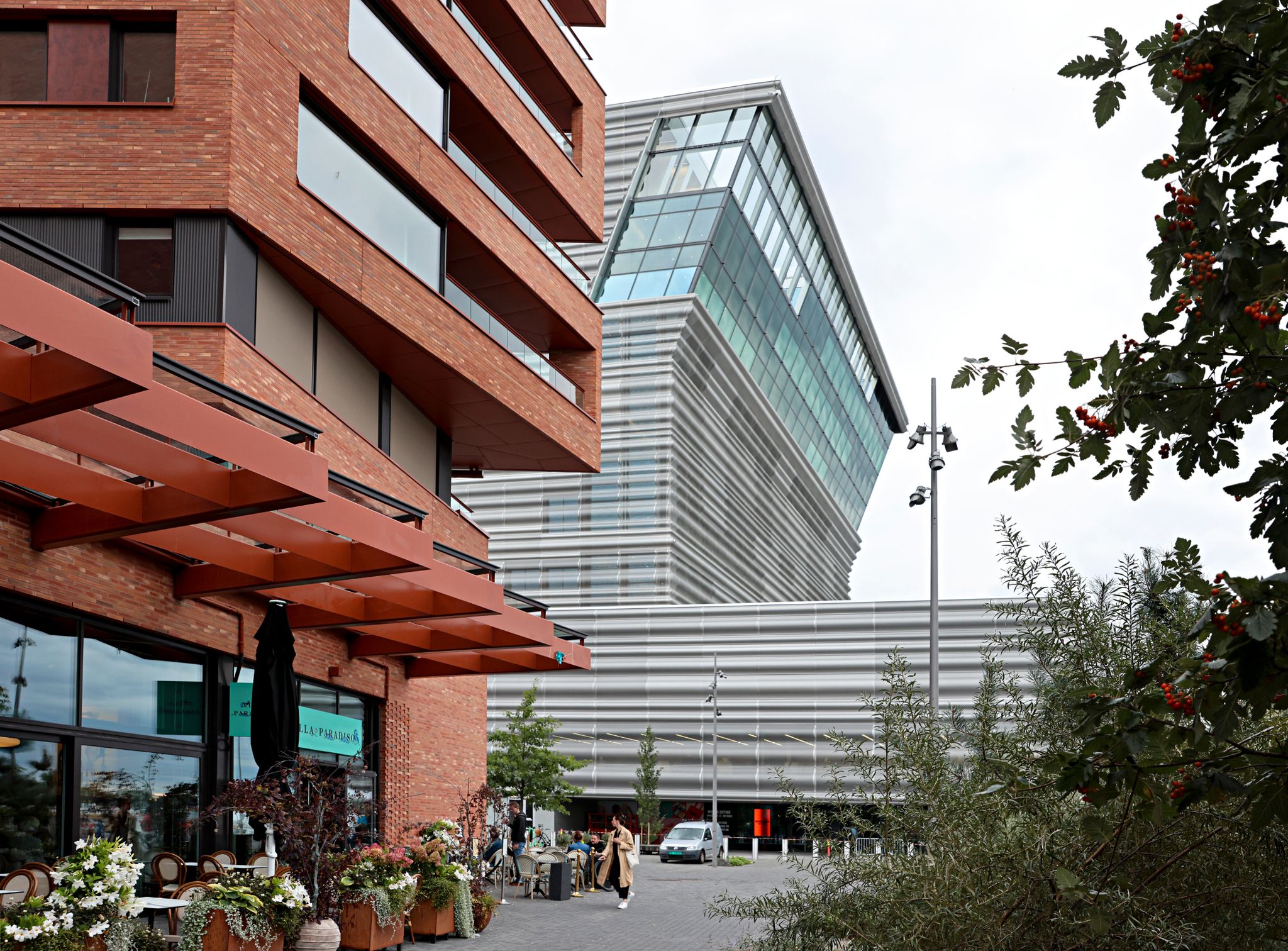 The location could not be better. But also pasta.
Our assessment:
– Unfortunately we are exhausted for salad with figs and ham.
– Oh, it was a shame. But then we tried the crab salad.
– No, unfortunately we don't have it either …
No, it was not how we had thought the evening would begin at the Villa Paradiso Munch pier. After all, we are talking about a branch of the largest and most popular restaurant chains in Oslo. You should think that they had learned to buy enough for the products to last all weekend.
Thus, the bacon and caprese salad becomes an appetizer, as classic as the playful interior of Villa Paradiso. We have a table outside, overlooking Akerselva and not least the new Munch Museum. If location means anything to the bottom line, Villa Paradiso can laugh to the bank as they visualize the buses packed with tourists who will have to pass through the entrance to pizza paradise when the museum opens this fall.
Venice or Naples
But so far there is a lot of space both under the umbrellas on the outdoor terrace and on the two floors inside.
The interior is easily recognizable to guests who have visited one of the six sister restaurants for the past 16 years, but are also inspired by its seaside location. Here are high ceilings, Italian tiles, fun sculptures, and Venetian glass and mirrors in many forms. The waiters are in blue uniforms, the menus are large and light yellow.
We say the latter only because we know it from experience, because nothing is distributed here other than qr codes that send us a pdf from the phone menu. But the waiters are absolutely present in physical form. We quickly draw attention and water on the table. Eventually it goes a little slower, but it's fine on a lazy late-summer afternoon.
The Villa Paradiso concept is based on a Naples pizza oven that is still in the mother restaurant on Grünerløkka. But in Bjørvika, the food is also inspired by Venice, here cichetti (small slices from the canal city) and Bigoli, a local spaghetti, are served. Otherwise the menu is as expected. Appetizers and starters, a couple of main courses and around 20 different pizzas. There is pasta here too, including a Vongole that I decide to try. Willie orders grilled sirloin.
First class starters
But first we get fresh baked focaccia and aioli, both absolutely excellent. The caprese salad is top-notch too, with flavorful, crunchy tomatoes, a greasy mozzarella, and sour vinaigrette. The casserole is very well combined, with ham, salted almonds, olives, three cheeses and salami. Add crispy parmesan chips, figs, and apricots. For 150 crowns, it is a small warp.
You can't say that about Vongolen. Although it is the cheapest in the neighborhood, both Skur 33 and Salome have much more expensive variants, it is a solid disappointment. 220 crowns for a load of linguine drowned in melted butter, a little parsley and ten – 10 – little pinky-nail vongole shells.
It must be a mistake. Because also Willie's entrecote with roasted vegetables is a generous portion of quality. Tender meat, lots of beautifully cooked vegetables and a large plate of potatoes are worth 280 kronor.
Simple is better
Villa Paradiso has always had a good tiramisu, here it also passes the litmus test. Juicy, light and creamy with many flavors of mascarpone and cocoa. But the best dessert after such a hearty meal is probably Affogato, where you simply pour an espresso over a scoop of vanilla ice cream. So simple and so good.
You can also talk about the whole experience. You need nothing but good waiters, the aroma of freshly baked stone-oven pizza and some well-cooked sandwiches to spend a Venetian evening in Bjørvika.
Aftenposten has three regular food reviewers who review three restaurants a week. You can read all the reviews at restaurantguiden.osloby.no where you'll also find over 60 food guides for everything from the best pizza and burgers to Thai goodies and restaurants open on Sundays.

www.aftenposten.no