In Sweden, they were half of a Simba team. One of them had just been tried in Bergen.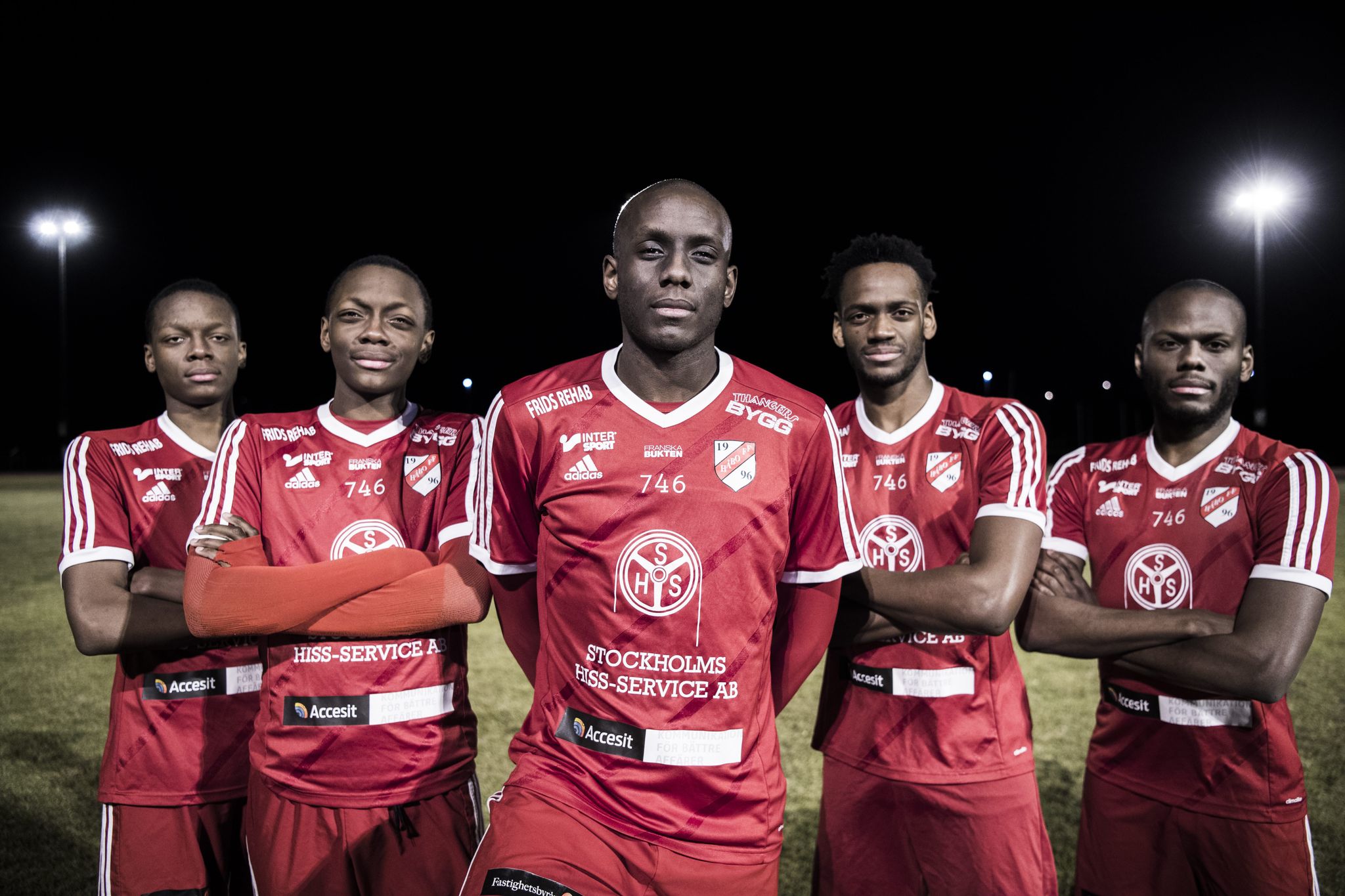 Imagine Moonga Simba on the edge, with his twin brother, offensive back Asokolo Simba, on the same side as Brann.
Simba, that is, Moonga, believes that this may be possible if the twin brother only decides to fully invest in football.
He is then pleased to personally advise athletic manager Jimmi Nagel Jacobsen.
– I haven't dared to do it yet. But if it gets more serious, I'll suggest it, says Simba.
That in fact have It happened, five Simba brothers are on the same team. Moonga and Asokolo were teammates at the Swedish Håbo FF a few years ago, then in the company of three older brothers.
In the Simba family, "everyone" is a soccer player.
– There are a large number. Not only my brothers, I also have a cousin who played in AIK (Rahid Rashidi). His brothers also play soccer, the little brother is on the 2006 men's national team, says Simba.
Hard love
Moonga Simba has always been determined to become a soccer player, but the great soccer talent in the family was his 14-year-old brother Mtaka.
– My mother said I would never be as good as him. He also said it himself, says Simba.
Siblings have always pushed each other, says Simba. When all the brothers played on the same team in Håbo, 16-year-old Moonga and Asokolo were able to ride.
– We were not very nice in training because we were brothers. They were not very harsh either.
Mtaka Simba has a long career behind him, and he may be remembered by those who closely follow levels two and three in Norwegian football. During a nomadic career with 17 club changes from 11 to 12 years, he visited Levanger, Nybergsund, Nesodden and Elverum, among others.
– It went a bit wrong, but it was definitely the greatest talent.
Now it is little brother Moonga who has played the most matches at the top level in the sibling group. Don't let that go unnoticed:
– I say yes. They need to know!
Moonga Simba smiles and laughs when she talks about the family's hard roof. It's "mostly for fun." His brother has always supported him, says Simba.
– Yes Yes Yes. He supports me all the time. I talk to all my brothers every day. After every training, every game, they are always there for me.
Twin brother on trial
This summer, the twin brother also wanted to move to Bergen. A Swedish acquaintance of the brothers is called Kevin Berg and he plays in Lysekloster IL.
Berg spoke to Moonga, Moonga spoke to her brother. This led to Asokolo Simba training with the 3rd division team and he managed 20 minutes in a match against Lyn in August.
– It was a shame it didn't work out, says Lysekloster coach Ruben Hetlevik.
Asokolo Simba was only going on a trip to Sweden, but during the time there, the crown flourished, Sweden became a red country, and twin brother Simba had trouble crossing the border.
Therefore, there was a new contract with the club in Sweden.
– It was great. The Lysekloster players were nice people and had good coaches, says Asokolo Simba, who still likes to move to Bergen if the opportunity arises.
Simba's dream
After Moonga Simba, after much dominance of the crown, arrived in Bergen in April, the last 13 matches for Brann. Most of them jump off the bench.
Simba has been as good as Eirik Horneland expected.
– He came from a somewhat low level, had played a bit in the Superettan, and before that he was probably in the 2nd division (level three) in Sweden. He has good talent that he will develop to be more effective at a high level, says the coach.
It seems like Simba is always nice in training. Certainly a bit curious, like when after training he heads up a loose pole and runs towards the four or five spectators with the suit over his head and his arms well stretched out.
His brother and coach use the same words about him:
– It's "quiet", as they say in Sweden. Calm and balanced, but I think there is a temperament deep down in the boy, and we will unleash that more. Taking it out can help you on the soccer field, Horneland says.
In training on Friday, he spent a long time talking to Lennart Grill about life at Bayer Leverkusen. It is at the level you dream of reaching in one day.
– It's the biggest dream of playing in the Major Leagues. Of course you want to go there, says Simba.

www.aftenposten.no