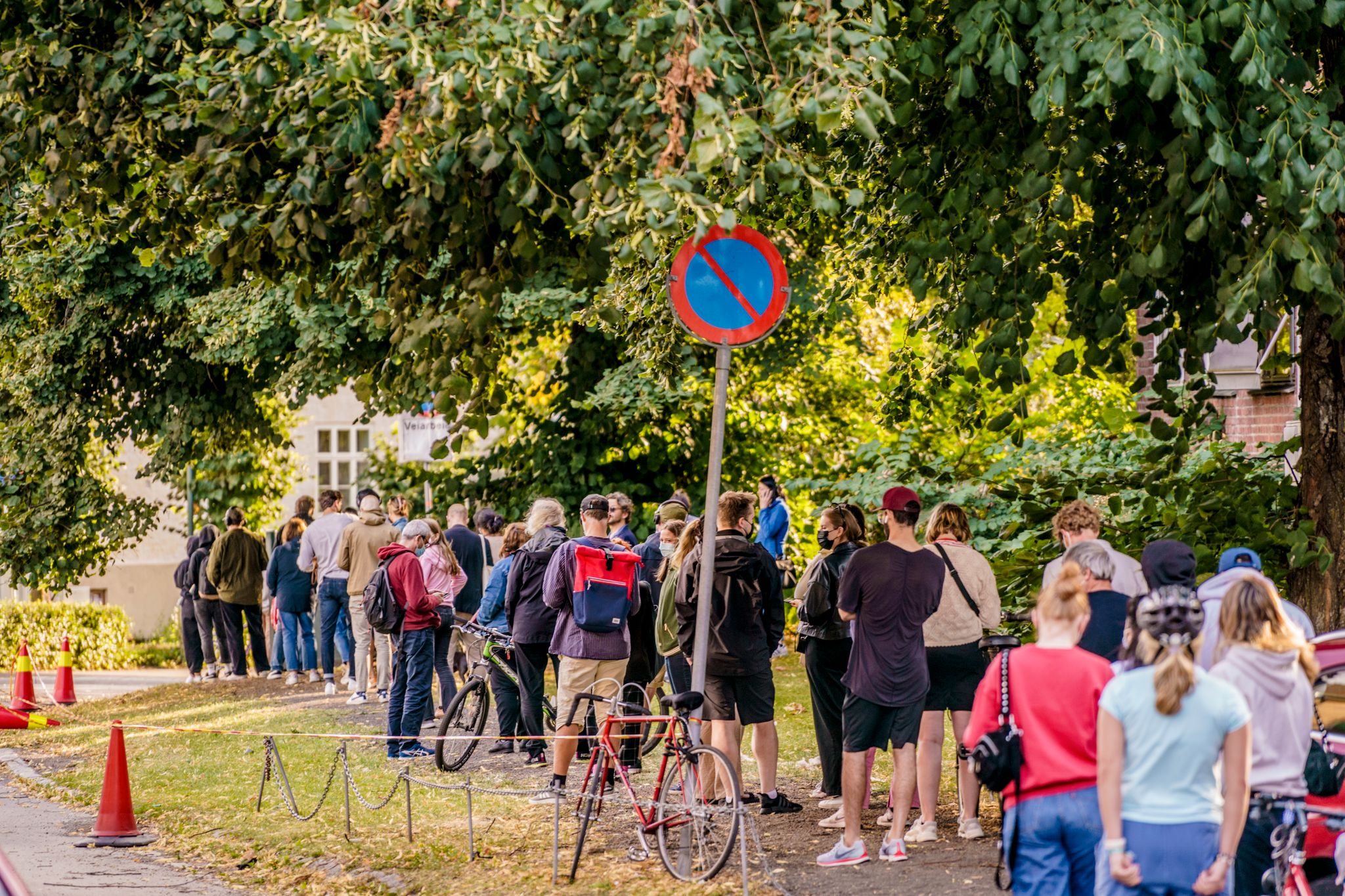 In ten days, the quarantine requirements will be relaxed. So close contacts can prove themselves every day and still go to work, be social, and live normally. The Norwegian Health Directorate has sent millions of self-assessments.
September 27 is the date. Not for the final reopening of Norway. But then the so-called TISK strategy (testing, isolation, infection detection and quarantine) is degraded.
The change means fewer people must be quarantined and municipal infection trackers no longer need to contact everyone who may have been near an infected person.
The date of September 27 is the most important for the municipalities. So they don't have to spend huge resources on infection monitoring, emphasizes the Minister of Health and Care Services, Bent Høie (H).
– For most people, the most practical change is that, as a close contact, you can challenge yourself to get out of quarantine.
New test every day
Now, the quarantine obligation will only apply to household members and close people in a similar way. But these can, at the same time, prove themselves outside of isolation and quarantine.
The scheme is similar to the rules that were introduced at school after summer break, where students are tested to get out of quarantine.
But for unvaccinated adult close contacts, there is a much stricter testing regimen. Where students are now mass-tested at home twice a week, close contacts are required to take a rapid test every day for seven days or take an ordinary PCR test every other day for a week.
– There will be a fairly high consumption of self-tests if you have to test yourself every day, as a close contact adult who has not been vaccinated. Fortunately, it will be less and less relevant for adults in Norway to get tested, as many have already been vaccinated. So we think this will go well, says Deputy Health Director Espen Rostrup Nakstad.
In Oslo and several other cities, it was almost impossible to find rapid tests in August, after the sharp increase in infection among school students. In Oslo, pharmacies were sold out and queues at testing centers were long.
Quick tests purchased
Those who need a quick test should get it free from the public sector, Nakstad says.
The Norwegian Health Directorate recently bought five million rapid tests. On Friday, three million of these were sent to all the municipalities of the country. Roche antigen test kits were distributed by population. Now there will be a package with five tests for 10 percent of the inhabitants of each municipality. Two million tests have also been placed in the national emergency arsenal.
– Municipalities are asked to undertake self-evaluation, as they have already done with primary and secondary students. Now the tests are being brought home. Exactly what pattern of consumption there will be in the self-assessments and rapid tests, we do not know. But we are following this closely and will make sure that municipalities are well prepared throughout the fall. In the future, you may also have to take your own responsibility and obtain the tests yourself, says Espen Rostrup Nakstad.
He adds that it is still possible to do things the old-fashioned way.
– Replacing the quarantine requires a lot of resources. If you have the opportunity to take a home office and be careful, then it may be an alternative to testing yourself every day.
also read
A turning point in the battle against the virus in Norway. New tests reveal the virus in 15 minutes.
Against normal in October
At Friday's press conference, Health Minister Høie was unable to announce a full reopening. But he warned that Norway is approaching normal daily life.
He said the government plans to run four weeks of "degraded TISK." Thereafter, most national infection control measures will be repealed. Then one can open up to what the health authorities describe as a "normal situation with more preparedness."
– When normalcy returns, the current level of preparedness should be maintained through the new year, and perhaps into winter, Høie said at the crown press conference on Friday.
That form means that the government will phase out the meter requirement, event restrictions, and nightlife table setting requirements by the end of October at the earliest.

www.aftenposten.no