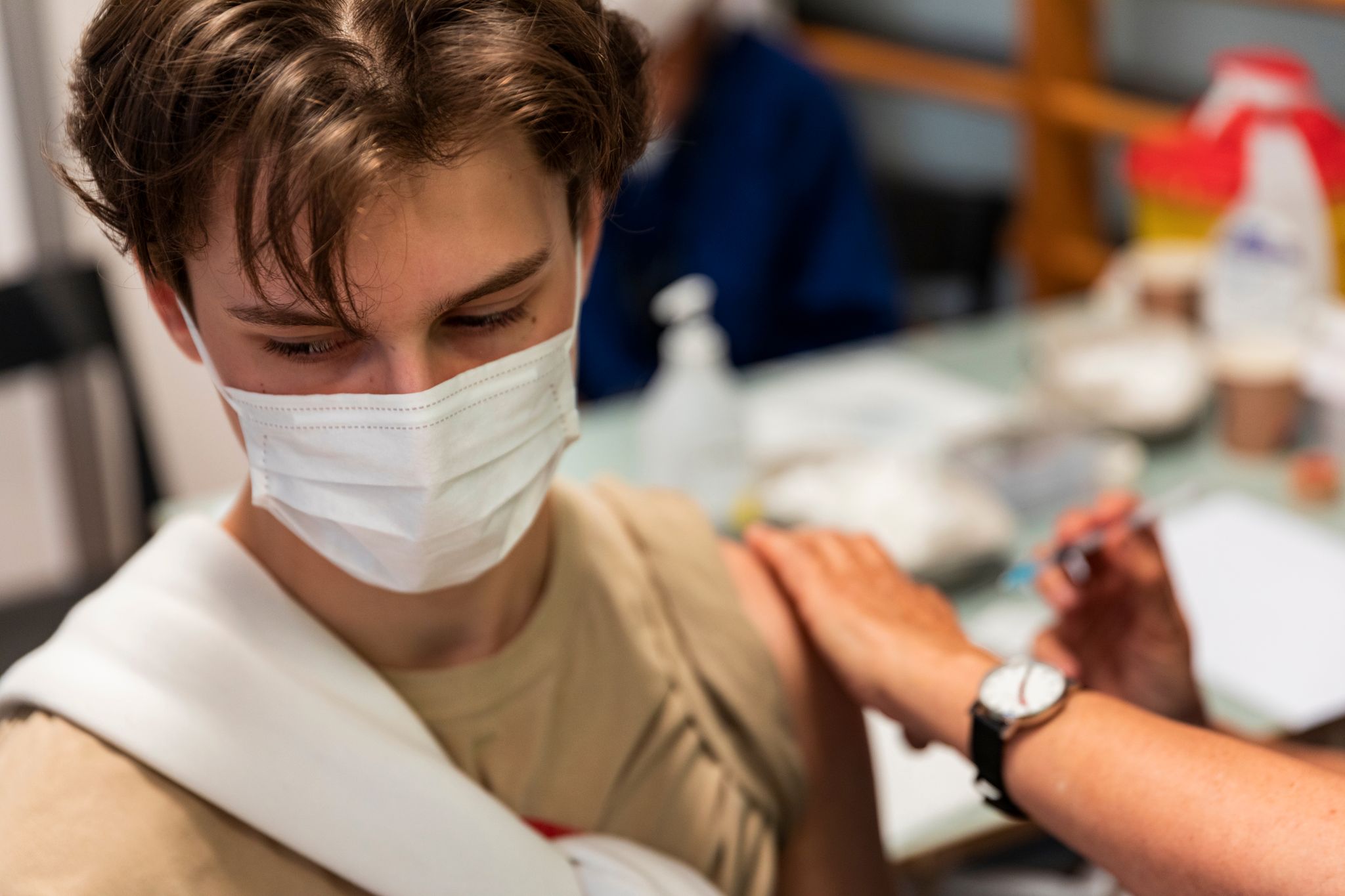 The study tour to Poland was redirected to Trondheim due to the corona epidemic. But Elias Klouman Åsland (15) and his colleagues hope that this syringe means that the next summer vacation will be a trip abroad.
The Majorstuen school music class is among the first high school students in Oslo to be vaccinated. On Thursday, more than 250 students were specifically vaccinated in the school gym. They are among the more than 250,000 young people between the ages of 12 and 15 who will be offered a dose of coronary vaccine from Biontech / Pfizer in Norway in the coming weeks.
In Oslo, several districts have chosen to vaccinate 8th to 10th grade students in schools.
On Friday, the municipality arrived with frescoes vaccination rates. They show that 37 percent of the city's 12-15 year olds have been vaccinated. This age group should have only one dose.
The Frogner district has halved the vaccine center capacity and now visits school by school. Elias Klouman Åsland (15) is one of those who has now been vaccinated. He admits he's a little scared of injections.
– I was a little scared, but I just felt a little prick in the arm, he said later in the closet.
I had to call the parents
He was one of the last in the music class to enter the waiting room, where students are observed for 20 minutes after being vaccinated.
Before vaccination, all papers had to be reviewed. Parents must complete both a self-declaration and a consent form.
At Majorstuen school, the health nurse had to contact several parents to obtain consent. If the mother and father share parental authority, the consent of both is required.
– It's a bit challenging when, for example, Dad is in China. But I think most people have done well, says Assistant Principal Linda Snoen.
Concerned about stigma
When the green light was recently given to vaccinate children ages 12-15, the National Institute of Public Health skeptical about vaccination in schools.
The reason is that such an organization can make visible who says yes and who says no to the vaccine supply. The Majorstuen school has tried to avoid this.
– Our contact teachers have been aware of generalizing that someone is not vaccinated. Students have been told that someone has had COVID-19 and does not need a vaccine. Some have underlying diseases and therefore have been vaccinated before, while others have parents who do not want a vaccine. Here it is the families who decide, explains Snoen.
She says the school has been contacted by parents who were concerned about the stigma of those who say no.
– There have been two or three inquiries from parents skeptical of vaccines who were concerned about how we present the information about the vaccination offer in the classes, says the assistant principal.
Decided by myself
Elías recently vaccinated even has a mother who has not been sure about vaccinations. But only on his part.
– We have talked a little about vaccines at home. Dad is fully vaccinated, while Mom has been a bit concerned about the side effects. But I've been involved in saying yes to the vaccine myself, says the 15-year-old.
He and his classmates are tired of the pandemic and all the tests done lately. In the last year, both the practice of soccer and music have been limited by infection control. The class was going to take a trip to Krakow in Poland this fall. Due to the pandemic, the trip is heading to Trondheim.
– It's boring, but I hope the next summer vacation will be a trip abroad.
Recommend that shared families speak with their GP
Both the health authorities and the Oslo School emphasize that the vaccination of children between 12 and 15 years of age is an offer.
– Students and parents are informed about the vaccine and that vaccination is voluntary, both through the school and the vaccination centers. If there is a disagreement between children and parents, the Health Service recommends that you speak with health personnel, such as your family doctor. Children under 16 are not of medical age, but will be included in the decision, says Oslo School communications director Randi Hagen Eriksrud.
In Oslo, not all young people are vaccinated in schools. In some districts, students are bussed to immunization centers. Children 12 and under who attend elementary school and others who do not use the school's vaccination offer are encouraged to use the visiting hours at the local vaccination center.

www.aftenposten.no