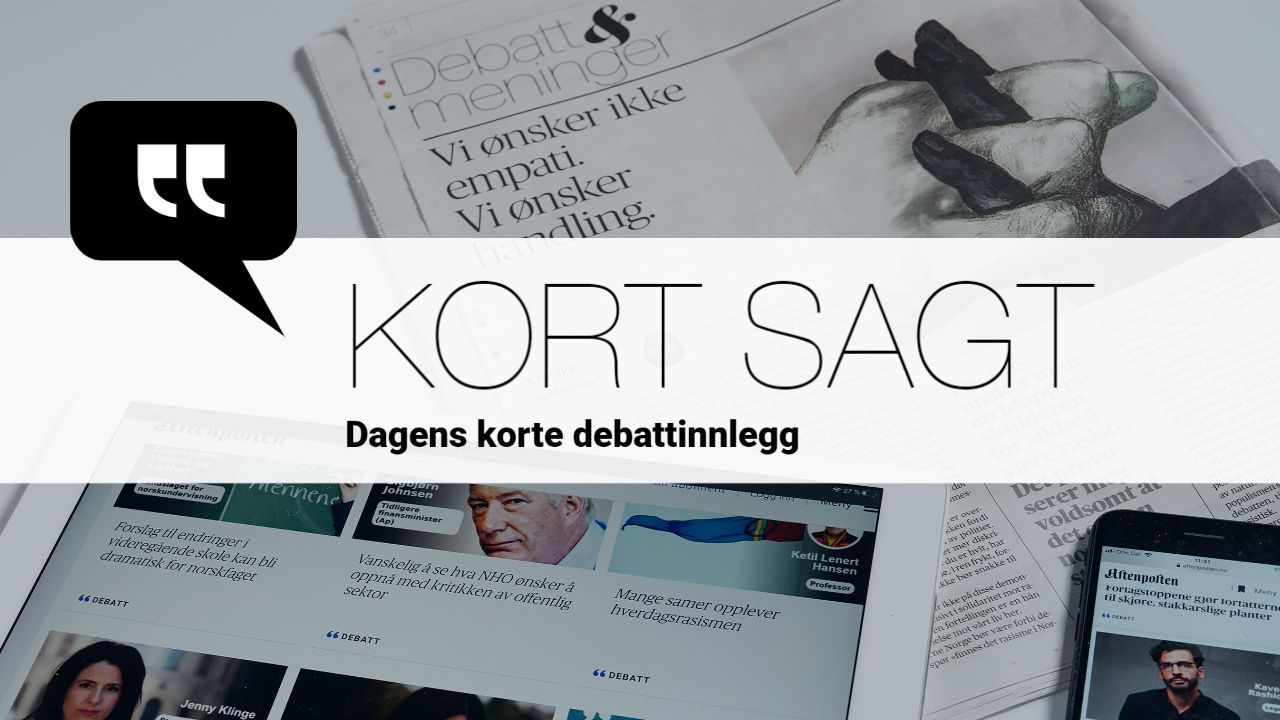 Norway after oil. Expensive tickets for research events. This is today's postcard.
Debate
This is a discussion post. Opinions in the text are the responsibility of the writer.
Social mission: Norway after oil
How about a major research program on how the world can phase out oil by 2040? asks Professor Hans Petter Graver in Aftenposten on September 9. The Research Council has just recorded this in the government's long-term research plan: an initiative to limit climate emissions, create new jobs and further develop the welfare society.
"Norway after Oil" is a broad social mission that will solve these three closely intertwined challenges. Dependence on oil means that the green switch means something different in Norway than in other countries. This places demands on research and innovation policy.
The restructuring process will require a broad agreement and an ambitious investment. Therefore, we have proposed to reserve at least five billion crowns for four years. It is a necessary start to solve this social mission, which will be widely mobilized from basic research to technological development.
A general strengthening of Norway's research efforts and knowledge-based social development is necessary, as the Labor Party, Center Party and SV wrote in their joint comment during last year's budget discussion. The first step must be taken in a new governance platform. Now it is urgent.
Mari Sundli Tveit, Executive Director, Research Council
---
The research communication days for the rich
The irony becomes great when a ticket for Research Communication Days costs a minimum of NOK 5,500 at the same time as a program article is "Reaching Young People".
The Research Communication Days will take place on November 17-18 as a collaboration between Forskning.no and the University of Oslo (UiO). A ticket for the event costs 5500-7500 crowns.
Research communication days are important to create joy around topic communication. For students passionate about research communication, participation in such events will be a golden opportunity to network and engage on the topic, as well as an opportunity for UiO to secure the communicators of the future.
Attitudes like those shown by Forskning.no and UiO contribute to creating an exclusive and elitist culture where research is reserved for the rich. There are prejudices against this in the population. So I think Forskning.no and UiO are interested in countering those biases rather than substantiating them.
Embla Imset, Master's Student in Life Sciences, University of Oslo
---
Not easy to understand
Torgrim Titlestad affirms in Aftenposten on September 13 that "I advance in the field of falsification of history" and I bring "a translation beyond all reason" of what is written about Norway in the book by Stéphane Courtois Black book of communism.
I remind you that I have actually reproduced word for word what is written in English in the English edition (in Aftenposten on August 13), in French in the French edition (in Aftenposten on August 25) and what is written in Swedish in the Swedish edition (in Aftenposten on August 25). These imaginative texts are actually in print. Titlestad writes quite strangely that reproducing them is "source abuse" and "without basis in reality." It is not easy to understand.
Lars Borgersrud, historian

www.aftenposten.no