Rory McIlroy (32) asks Viktor Hovland (24) to shrug before becoming the first Norwegian to play in the Ryder Cup, while Lee Westwood (48) says Hovland is a "phenomenal golfer" and " a very nice boy. "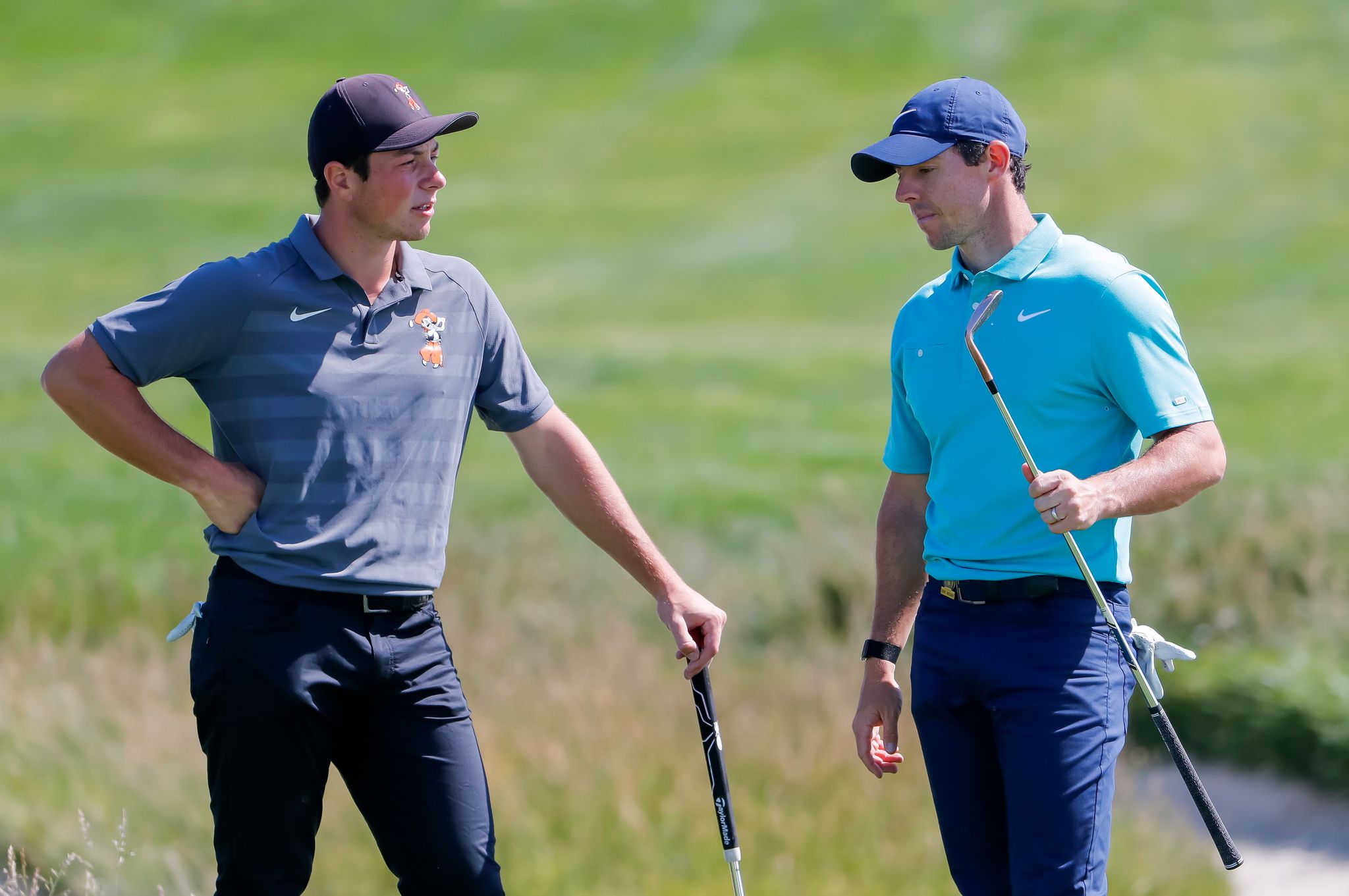 Aftenposten collaborates with VG-sporten. Therefore, as a reader of Aftenposten, you also get articles and services created by VG.
– As I tell all "newbies", your golf is the reason you are here. To Viktor I say "just be yourself". He is one of the best players in the world, McIlroy tells VG.
The prestigious Ryder Cup between the US and Europe is played at the Whistling Straits track in Haven, Wisconsin, 24-26. September. McIlroy even made his Ryder Cup debut at just 21 years old in 2010.
– Viktor is already a wonderful teammate with the energy and enthusiasm he brings to our team. For Viktor, it's just going out to the golf course, being himself, and playing his game. That's more than enough, says McIlroy.
When McIlroy finished his meeting with the press, Viktor Hovland arrived. The European team will train on the Ryder Cup field later on Tuesday. Hovland and McIlroy are scheduled to run nine holes with Sergio Garcia and Lee Westwood.
When asked by Eurosport if Hovland can imagine playing in pairs with McIlroy in foursome and fourball (Friday and Saturday), the 24-year-old made no secret that he is positive about it.
also read
Ryder Cup Captain Harrington to VG: – That's why Hovland is attractive
– It would have been great to play with Rory. Today is the first day of entry. We try to bring people together. We'll see how it goes, but it would have been amazing to play with him. At the same time, I was able to play well with almost everyone on the team. It will be an honor whatever happens, says Hovland.
Lee Westwood, 48, attended the press conference after Hovland. He is playing his 11th Ryder Cup and was asked by a British journalist what it is like to play with someone who is half his age.
– I was also 24 when I played my first Ryder Cup. Viktor is a special golfer and I like to play with him. He has no weaknesses in his game. He is also a very nice boy. Congratulations to his parents who raised him. Plus, he's also a phenomenal golfer, says Lee Westwood and smiles well.
NEW DRESS: Viktor Hovland in Ryder Cup clothing.
February 1Photo: Stacy Revere / GETTY IMAGES NORTH AMERICA
Hovland says Westwood's participation before his 11th Ryder Cup was fascinating. Hovland has studied the highlights of previous editions of the Ryder Cup with Westwood and Garcia.
– You look at the statistics of how much they have earned around the world. Over and over, week after week, they are delivered every time. It's great to see some of those moments and how they handle the pressure, which is great, says Hovland.
On Monday, European captain Pádraig Harrington (50) told VG that Hovland was so attractive to play in pairs with for the whole team due to the youthful enthusiasm that the Norwegian has.
Hovland was asked if he thinks there is something special he wants to contribute to the team.
Team USA It consists of Dustin Johnson, Bryson DeChambeau, Patrick Cantlay, Brooks Koepka, Collin Morikawa, Justin Thomas, Xander Schauffele, Tony Finau, Jordan Spieth, Scottie Scheffler, Daniel Berger and Harris English. Steve Stricker is the captain.
Hovland does the european team along with Paul Casey, Matt Fitzpatrick, Tyrrell Hatton, Tommy Fleetwood, Rory McIlroy, Jon Rahm, Lee Westwood, Bernd Wiesberger, Sergio Garcia, Shane Lorwy, and Ian Poulter. Pádraig Harrington is captain.

www.aftenposten.no