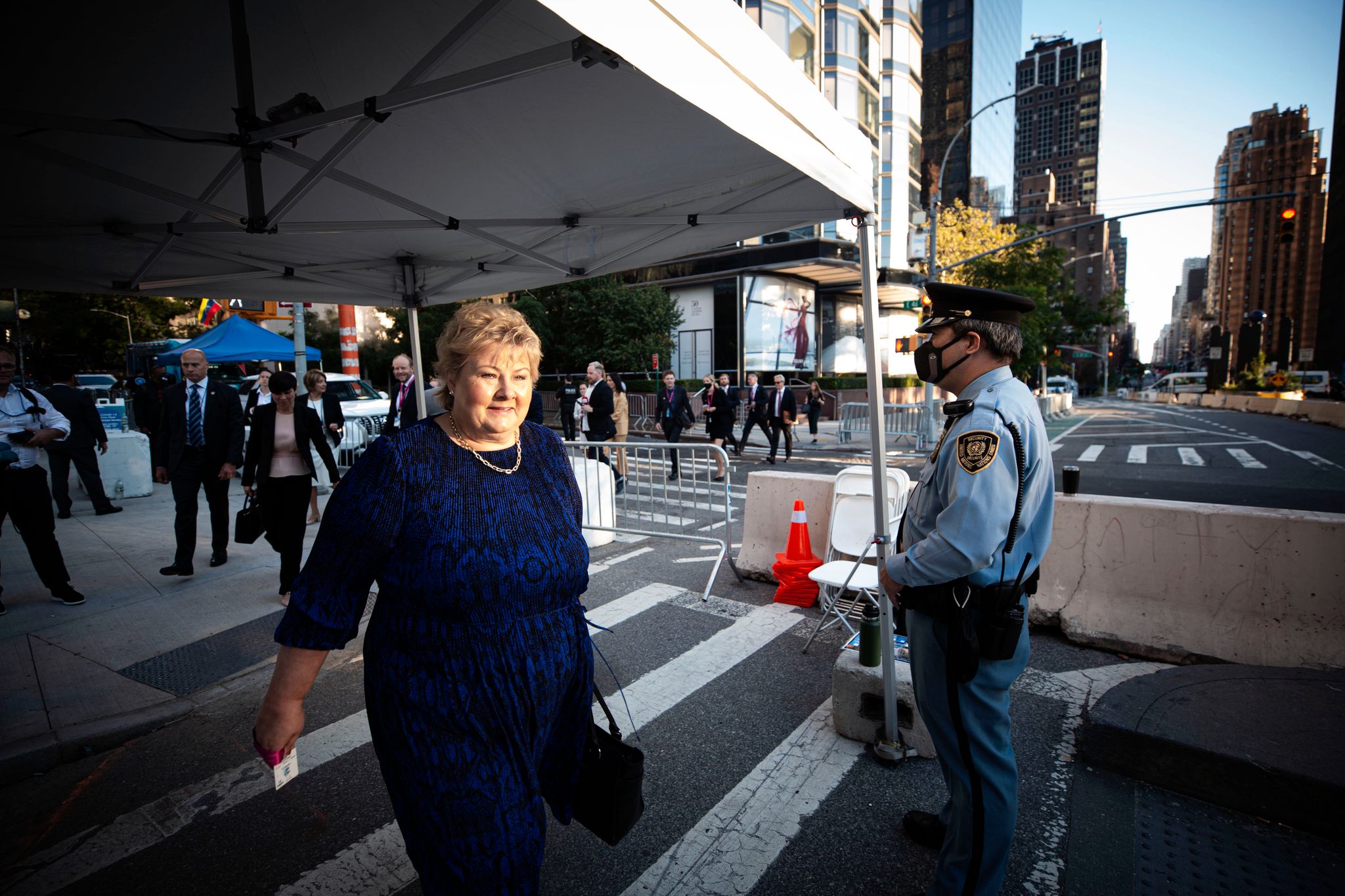 News came in this week that we are approaching 2.7 degree warming from pre-industrial levels. That's well above the 1.5-degree target that researchers think we should hit.
– I'm afraid of that. I think it's incredibly important that we get more big countries to commit more. So subsidizing isn't enough, then you have to start taxing fossil fuels around the world, says Solberg.
Together with the Secretary of State, he is in New York for UN meetings. The Prime Minister says she received reactions when she announced at the UN that Norway will tax a ton of emissions at 2000 kronor.
– Then there was probably someone who gasped a bit, says Solberg.
Solberg says there is a sharper tone on the climate at the UN now than before. The UN chief is openly saying there is a danger that this fall's climate summit will fail.
– If the larger countries do not report stronger obligations on their own and there is no more financing, I think that challenge may be present, says Solberg.
UN chief warning
– There is a great risk that the climate summit will fail, says UN chief Guterres.
Solberg says that smaller countries experience that the promises of the Paris Agreement are not kept and he says they are right about that.
– The promises you promised have not been fulfilled. Part of this is because the United States withdrew and the pandemic has drained smaller countries of their own resources. It's a significantly higher tone now, says Solberg.
– Do you feel it yourself? Has Norway performed well enough?
– We have complied a lot with climate finance, and it is important to point out that they are not asking for renewable investments, but rather an investment to make societies more robust, ensuring job creation and change. That's one of the things we've prioritized, says Solberg.
Naturally, she cannot put any more money on the table now, as outgoing Prime Minister.
– I cannot make commitments for Norway after the elections. We have said before that we want a revolving fund, we have repeated it internationally now. But beyond that, we can't come here and promise anything, says Solberg.
Three requirements
Guterres notes that there is a need for a 45 percent reduction in emissions, but that despite commitments from countries around the world, we are likely to see a 16 percent increase from the 2010 level.
– This means that if we do not change course collectively, there is a great risk that the climate summit will fail, says Guterres.
Guterres says the world must deliver on three fronts:
First, world leaders must make sure that we get closer to the 1.5 degree goal.

Second, a $ 100 billion a year climate change fund should be established in developing countries.

Third, funding for climate adaptation measures must be scaled up to at least 50 percent of total public climate funding.
– Good news in store
US President Joe Biden is expected to arrive during UN week with what one source calls "good news" about creating a $ 100 billion a year fund, as demanded by the UN chief.
– We have heard from representatives of the United States that there is good news on the way. We don't have the details ready, but hopefully it will become clear how the United States will support the establishment of the fund, says a UN source.
Guterres says the world's richest country must take the lead, but developing countries must also join in the transition to a green future.
– I experience that Germany and France have come up with firm commitments, and it will be exciting to see Biden's speech. But from the other countries it is a bit quiet and not as quiet as reported. More large countries need to sign up, says Solberg.
Towards the litter
The UN chief also refers to energy production and says that if all the planned coal-fired power plants in the world are turned into something, we will be well above the original two-degree target.
– The Paris Agreement will go up in smoke. OECD countries must stop coal by 2030. Developing countries must do the same by 2040, he says.
Guterres had an informal meeting with Boris Johnson on Monday. The British prime minister says the gap between what industrialized countries have promised and what they deliver remains large.
– They all nod their heads and say that they agree that something must be done. I must admit that I am getting more and more frustrated that this "something" you are committing to is not close to being enough, says Johnson.
– Coal land can be insulated
Johnson also agrees with the demand to stop the use of coal as an energy source. He says countries that don't end up with coal can be cut off.
– If you say that children's lives are not worth reducing carbon consumption, will they vote with you in forums like the UN? Will they work with you, borrow from you, or support you if you say you don't mind being washed away by the waves?
"To be just a spectator is to be an accomplice of your destiny, and that's exactly what you want to be if you don't take action this year," says Johnson.

www.aftenposten.no