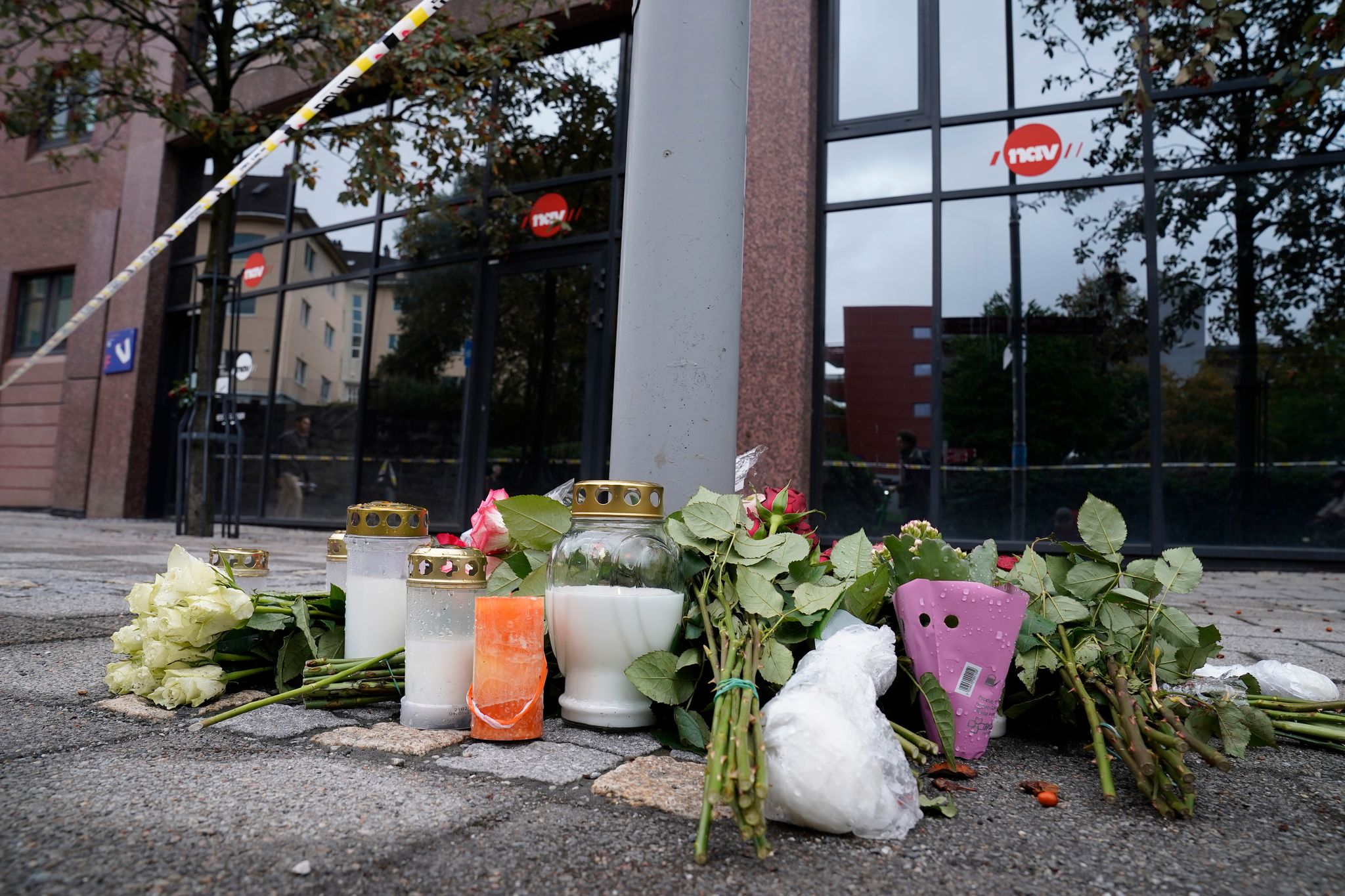 The assassination of the Nav employee in Bergen has shocked the entire Nav and affected the whole of Norway.
Chronicle
This is a chronicle. Opinions in the text are the responsibility of the writer.
On Tuesday I spent the day with the Nav Årstad employees. They met at a hotel in downtown Bergen after the deeply tragic event the day before. Here I met people who had been around a horrible incident, people who loved a warm and respected colleague who has now been ripped off, people who wondered how he fared with the colleague who was injured in the hospital, people in shock. and pain.
I am very grateful to be able to meet with managers and employees in the office in the middle of the really bad, shortly after the incident.
It was strong and good to see the massive turnout. It appeared that the vast majority of the 200 employees in the office were present. It was nice to feel the care that was shown around the tables, in the community.
It was good to see that the follow-up under the leadership auspices at Nav Vestland and in the township seemed very strong. There was a good presence of crisis psychiatric assistance, focus groups and close cooperation between Nav stat, the municipality and the police.
It was good to be able to say, with my hand on my heart, that I had the entire Nav with me in deep compassion for everyone involved. But above all, it hurt to feel the pain and despair of those who had lost a human being, a good colleague.
No shortcuts to ensure safety
September 20, 2021 will always be a bad and dark day in the history of Nav that we will not forget. Like on August 5, 2013, when a Nav employee was killed in Grorud.
We must do everything possible to avoid more such days. You do not have to fear for your own life when doing your job. You should not be afraid when you do what you can to provide social assistance and help people get to work.
However, we must recognize that there are no shortcuts to ensuring the safety of those who work on the front lines of the welfare state. Whether they are employed at Nav, in the child welfare service, in the school system or in psychiatry.
We have to meet people face to face
Anna-Sabina Soggiu wrote on Tuesday in NRK Ytring about your insecurity as a former Nav employee.
Regarding the much-needed discussion on safety for Nav employees that should come up now, she says the following: "In the next few days, I hope that the discussions will not only be about security, Plexiglas and tall counters."
I fully agree with Soggiu: if we are going to discuss security in a good way, we must take as a starting point that physical security is only one aspect of security.
We need to be available to people who need to know us.
Nor is it the case that the more physical security, the better security. The level of conflict between employees and users can increase with increasing elements of physical barriers. It can help reduce security.
Also, we have to meet people face to face to do our work at Nav. We cannot barricade ourselves. We need to be available to people who need to know us.
Has reinforced security work
At Nav, there has been an extensive discussion about employee safety since Nav Grorud's assassination in 2013. There are many factors that can strengthen safety.
The keywords are:
competence of our employees to identify dangerous situations in advance.

the ability to handle a situation that arises, quickly and efficiently.

good prevention through close enough monitoring of the various users for whom a supervisor is responsible.
Since 2013, the security work at Nav has been reinforced and systematized along these lines.
Various training measures have been developed, including the prevention and management of attacks and threats in meetings with users.
Contingency exercises are carried out in the offices to train in the management of current incidents. In addition, a minimum standard has been introduced for the physical security of all Nav offices.
Navigation supervisors also continually assess the security risk associated with the users they supervise, to the extent possible with some follow-up.
More than one event every day
We have strong indications that this systematic work has strengthened security. There has been a significant decrease in threats and incidents of violence reported in the state reporting system at Nav during this period.
At the same time, we must recognize that it is still difficult to sit on the front line in Nav.
In our government's reports, 1702 threats and incidents of violence were recorded last year.
Most are done by callers or writers to Nav, but on average there is more than one incident each day in one of the public receptions or chat rooms at NAV offices.
And 24 of them were physical attacks.
The figures may be higher, because municipal employees have their own reporting systems and are not required to record incidents in the state system. The threshold for recording incidents can also vary from person to person.
These are the realities
Think about it: there are several thousand working on the front lines at Nav. Employees who want the Norwegian welfare society to function as well as possible. At the same time, they must follow politically determined regulations.
Although the regulations provide some margin of discretion, it is also important to ensure equal treatment. This means that many of those who come to Nav will be denied what they ask for. They will be disappointed.
Many of those who go to a boating office find themselves in a difficult life situation. Some are in crisis. Some of them are in dire need. They need money. Now.
They may have a mental illness. They can be addicted to drugs. They may be traumatized by wars and conflicts in the country from which they originate.
They must be received with respect. They will meet with a supervisor at Nav who will talk to them, give them guidance and help them.
These are the realities. Meetings between the Nav frontline and those who come to us are never simple.
Safety in society is a shared responsibility
Let it be said: there are so many meetings on the front lines of Nav that are stories of hope that ignites, opportunities that are realized, security, relief. But then there are many meetings that are difficult.
We will do our best to make those meetings as safe as possible for our employees and as safe as possible for our users. It should also include enhanced cooperation with other parts of the public sector, including the health service and the police.
Nav is the safety net; many perceive it as the last chance. But the security of our society is a shared responsibility. We must work well together to help people and provide safety for our employees.
---

www.aftenposten.no