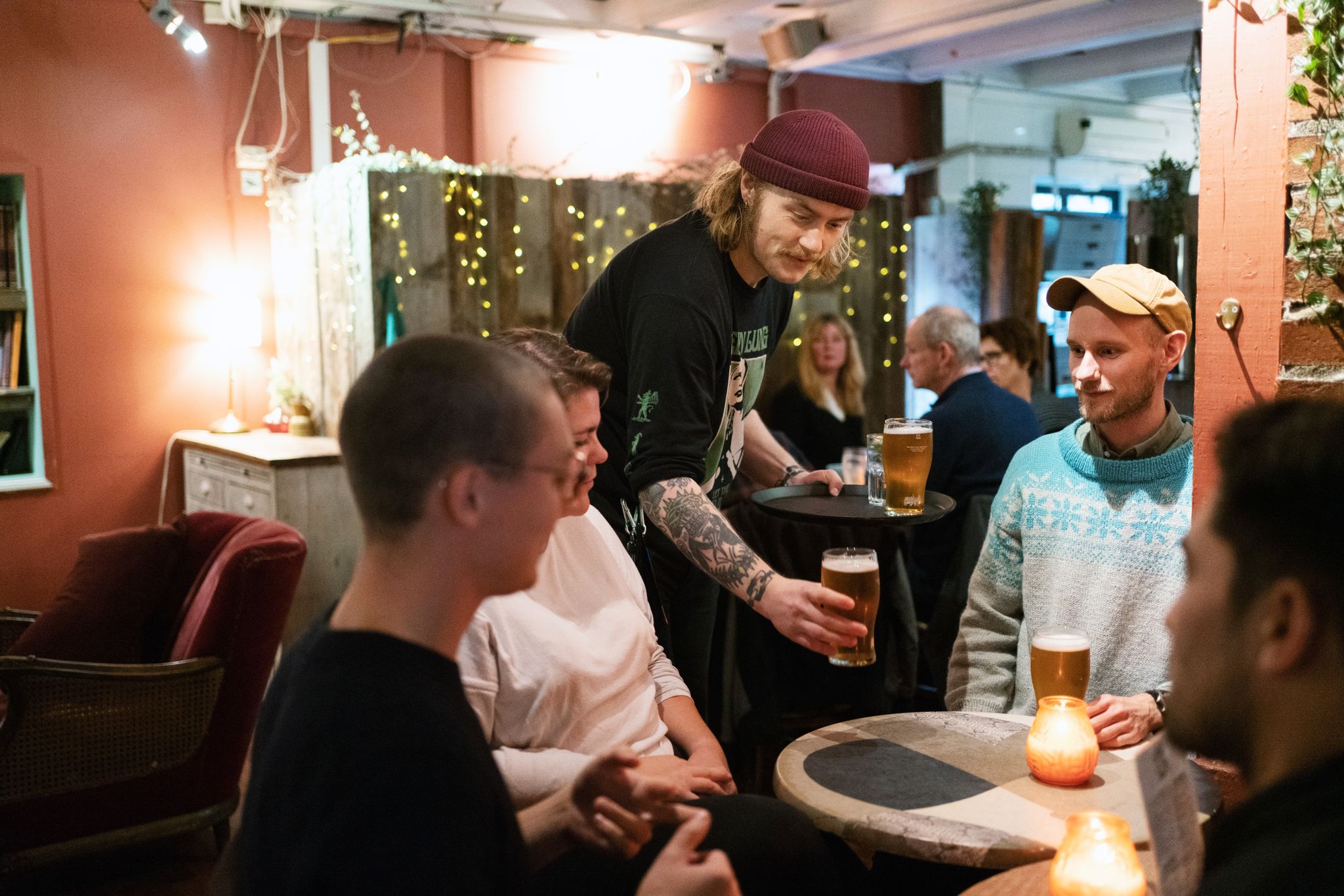 Oslo is preparing for the festival of the time. On Saturday, Café Sør has its first club night since March 2020. – It's really nice, says employee Geir Marton Sveinsvoll.
Saturday at 4:00 p.m. it happens. Finally. Norway is fully reopening. The meter rule and other crown measurements are repealed. Then you will be allowed to dance and hug again.
At Café Sør in central Oslo, the news was very well received. There has been no dance since March 2020. On Saturday, tables should give way to dance floors.
– It's really sick. It's going to be so good. "We have been waiting for this for a long time," Geir Marton Sveinsvoll (25) tells Aftenposten.
He has been working at Cafe Sør for a month and a half.
Measurements are removed
On Friday, the government announced that 562 days of national measures had ended.
Now people can stand together and squeeze together again.

Also, cultural events can be held with no restrictions on how many can attend.

People can drink beer at the bar and you can go to nightclubs after midnight.

Schools and kindergartens must return to normal everyday life.

Also, it will be easier to travel to Norway from EU countries.
In Oslo, City Councilor Raymond Johansen also announced that all local crown rules will be repealed with immediate effect.
This means, among other things, that calls are stopped to avoid public transport. Bandages can be thrown away.
– We are very ready. The hope is that there will be a celebration after kl. 16 tomorrow. I encourage people to go out there and show how happy they are, to show the diversity, what they have missed and how much they appreciate their city, Raymond Johansen said Friday.
– Not ready
At Café Sør in central Oslo, you will soon be ready for a party. However, the news came out suddenly.
– Certainly we were not prepared for such a short time. It came a bit abrupt, says Solveig waitress Eline Åsheim at Café Sør.
– He'll probably be busy, adds Sveinsvoll.
Åsheim knows exactly what has been lost in the last year and a half:
– Dancing, they say.
– Now we don't have to sit here with a QR code
Café Sør also has a group of friends Roman Eliassen, Runa Røed, Jonas Algers and Reber Iversen. They too are ready to say goodbye to the pandemic.
– The news that arrived on Friday was incredibly good. We can finally order a beer at the bar. Now we don't have to sit here with a QR code, says Algers.
On Saturday he goes to a concert. Then you will see the concert of the band Sliteneliten at the Blitz house.
Røed's greatest loss through the pandemic has been crushing.
also read
It warns of full march in cultural life. Release thousands of tickets to concerts and performances this fall.
Waiting for a longer opening hours
The news of the reopening was greeted with joy, says Mirjam Sandholt.
He visited Café Sør on Friday evening with Jon Arne Tjelta and Lydia Tornes Tjelta from Stavanger.
– The most boring thing has been the closing hours, says Sandholt.
– Now we can live normally
It will end on Saturday. It was Prime Minister Erna Solberg and Ministers Guri Melby, Bent Høie and Monica Mæland who at a press conference on Friday ended the measures.
– Today marks 561 days since we introduced the strictest measures in times of peace. The time has come. Now we are back to normal everyday life, Solberg said.
– Now we can live normally, he said.
Solberg took advantage of the press conference on Friday to thank the inhabitants of the country.
– The Norwegian people have made an enormous effort during this period. There are many people who have reason to thank us for making this happen, Solberg added.
Do not think that everything will be as before
The Norwegian Health Directorate and the National Institute of Public Health published their advice just hours before Friday's press conference. They thought that the government should advance its plan to reopen to a "normal daily life with greater preparation" only at the end of the month.
– We wanted to make sure that the municipalities were well prepared for the upcoming changes. In terms of infection, it was possible to reopen earlier, says health director Bjørn Guldvog.
Not everything will be as before, believes the Prime Minister.
– I mean we take the memory of this with us. We will carry more habits from the last 18 months with us, says Solberg.

www.aftenposten.no