Here, Casper Ruud (22) receives the victory hug from Björn Borg (65). A boy's dream came true when he became the first Nordic player to participate in the Laver Cup.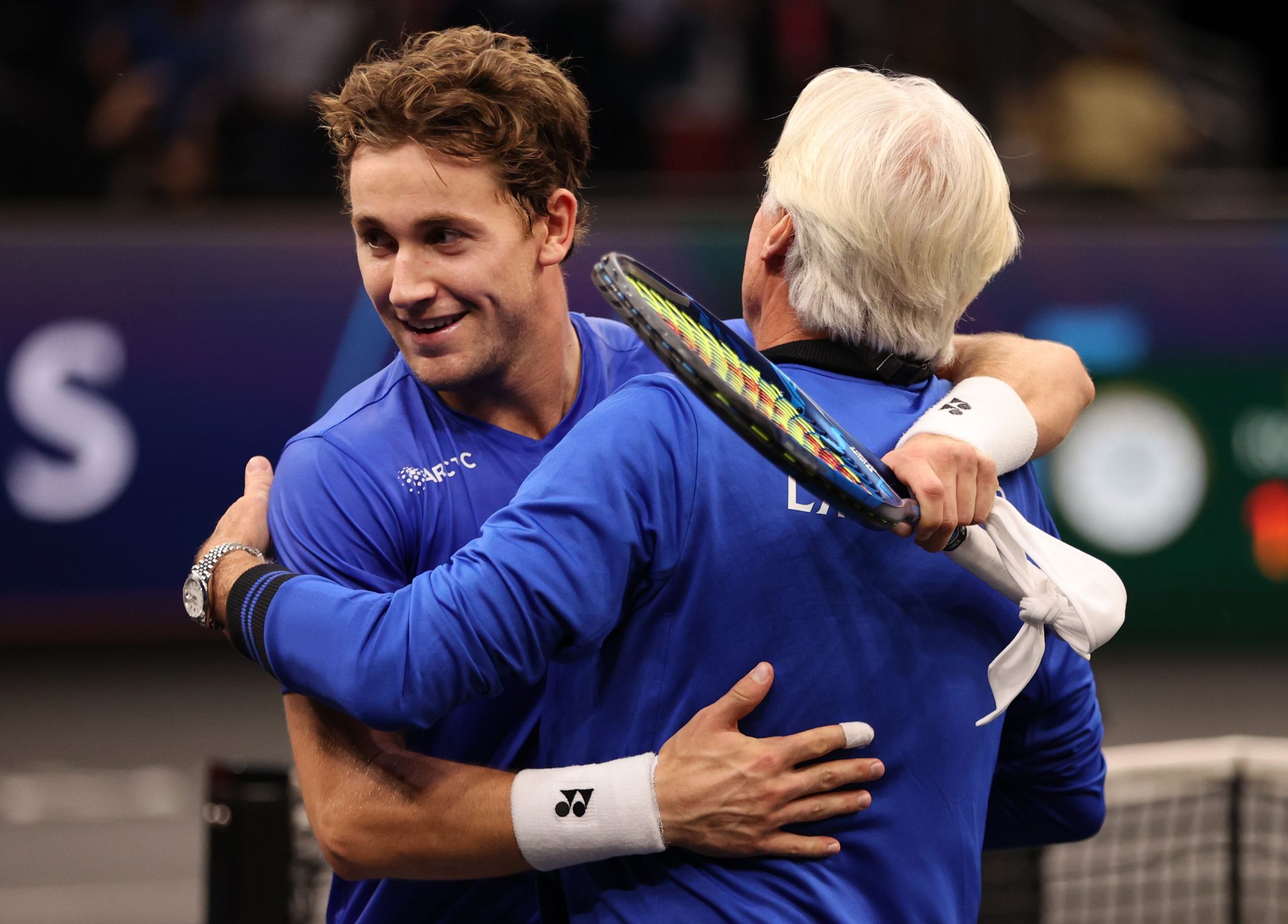 Aftenposten collaborates with VG-sporten. Therefore, as a reader of Aftenposten, you also get articles and services created by VG.
– This ranks high on the list. There is something very special about the Laver Cup. "I've seen the previous three tournaments on TV," says Ruud after beating Reilly Opelka in straight sets in Boston.
Laver Cup is inspired by the Ryder Cup golf tournament, where Europe meets the United States. In the Laver Cup, it is Europe against the rest of the world. After the first day, Europe leads 3-0, before the match between Shapovalov / Isner and Zverev / Berrettini ends.
Behind captain Björn Borg, the rest of the team, with US Open winner Daniil Medvedev leading the way, cheered for Ruud.
– I've been cheering from the couch. Now you are here yourself. It's an incredible experience in a year where a lot has happened, so this is one of the most important, says Casper Ruud to VG after a great game at TD Garden.
also read
Casper Ruud gave Europe a dream start in the Laver Cup: – Phenomenal
Björn Borg, with 11 Grand Slam titles from 1974 to 1981, stood by and fed the Norwegian advice between battles.
– Having him on the bench was incredible. "It has been a very small dream for me since I saw Laver Cup on television," says Ruud, who is asked to compare Borg's advice with what he receives from his father Christian Ruud.
– It's hard to compare Björn Borg with my father. It's a slightly bigger legend. I feel sorry for dad, who is home! It is very special with Björn here. He has been a part of tennis for 40-50 years and gives what he can of himself to the European team.
Borg's assistant, his compatriot Thomas Enqvist, is very pleased with Ruud's debut in the great company.
– I just have to say that I am very impressed with Casper's performance. It is very difficult to play the first game. There are a lot of people and a lot of nerves. The quality of the match he delivered was very impressive, repeats Enqvist, a finalist at the 1999 Australian Open.
He took off from the sand when Roger Federer appeared on the big screen in position 3-1 against the Norwegian in the first set.
also read
Björn Borg on Ruud: – He has a great future
– The hair on my arms stood on end. It was in match mode, but it was not possible to block. It was great to see him back in the tennis arena, says Casper Ruud, who met Federer with the rest of the team early Friday. The Swiss underwent his third knee operation in August, but the 41-year-old will focus on a comeback in 2022.
– It is always an honor when Federerer is in the arena. He brings with him an incredible aura for tennis, says Casper Ruud.
It is uncertain if he will play more games in the Laver Cup. Perhaps the chance will be greater for a performance in the doubles match that ends games on Saturday.
P.S! Laver Cup airs on Discovery +. Next week, Casper Ruud will play the ATP 250 tournament at the San Diego Open. You can follow him on VG +.

www.aftenposten.no