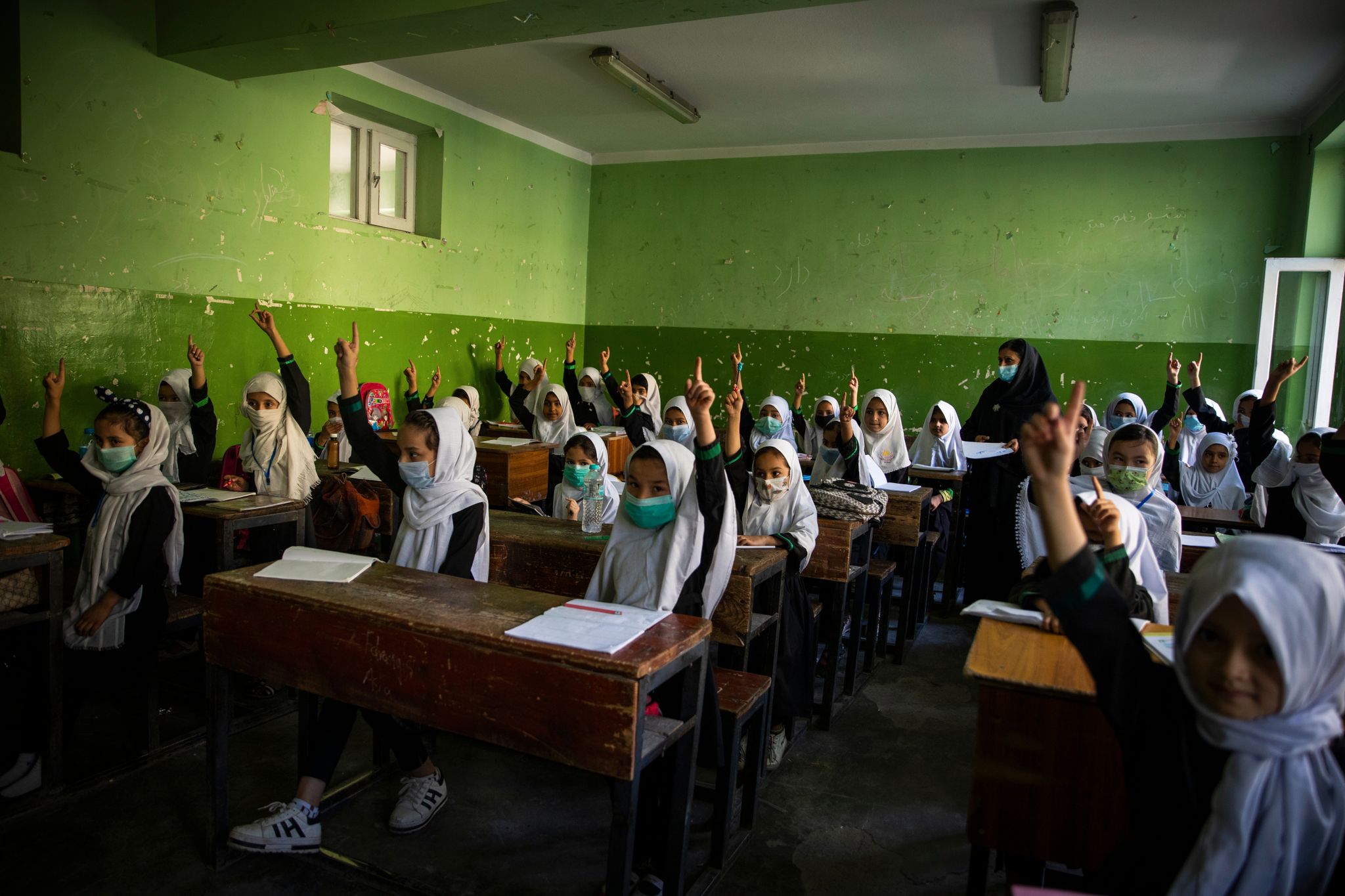 KABUL / OSLO (Aftenposten): – Islam must come first, says one of the new Taliban school leaders. Denies women access to studies.
Eager hands are raised in the air. At the Zarghona girls' school, teaching is in full swing. But only the youngest students through sixth grade are in place. When the school reopened this fall, 6,000 of the school's 8,000 girls had to stay home.
The Taliban just wanted the boys back to school. What happens to girls between the ages of 13 and 18 is uncertain.
– We are very concerned about the girls who go from the 7th to the 12th class, says the assistant principal Rabia Rashid to Aftenposten.
One of the school's teachers, Mila Amini (45), says that girls today have more self-confidence than when they studied at university.
– Today's girls dream of more than we did. They want to be part of society and contribute to it, he says.
Women fear for the future
The last time the Taliban ruled Afghanistan, from 1996 to 2001, girls and women were denied all forms of education. Women had very few opportunities to work. They were only allowed out of the house if they had a male guardian with them.
Since 2001, Afghan women, especially in cities, have become used to a completely different form of freedom. Millions of girls have gone to school, many have received higher education and outstanding jobs.
With a Taliban regime, all this is in danger, women fear that Aftenposten has spoken in Afghanistan.
– I'm afraid of losing the opportunity to continue my education, says 16-year-old Mariam.
Taliban: girls must have special transport
The Taliban say girls and women should start school again, but say it will take some time.
– We must ensure the safety of girls, says director Mohammed Ehsaq, responsible for the education of students aged 7 to 12. procedures in the Ministry of Education.
– Girls cannot go to school alone. They must have a special transport that is adapted for girls.
Women are denied studies
When the Taliban seized power in Afghanistan in mid-August, they promised to respect women's rights. Women must be allowed to study, work and participate in society. In practice, we see more and more examples of girls and women excluded from both work and education.
The latest example is Monday's decision by the new rector of the Taliban at Kabul University: Women will be denied education and studies at Afghanistan's most traditional university indefinitely. melder The New York Times.
The university with a 90-year history has more than 20,000 students. Almost half of them have been women.
– I promise, as rector of Kabul University, that as long as not everyone has a truly Islamic background, women will not be allowed to go to university or work. Islam must come first, writes Taliban-appointed director Mohammad Ashraf Ghairat in a Twitter message.
Prostitution centers
It is not immediately clear what Ghairat means by a "truly Islamic environment." It sparked outrage when the 34-year-old was named president of perhaps Afghanistan's most important university two weeks ago. At least 70 teachers and other professors have resigned in protest, according to science.
Ghairat previously believed that the country's schools function as centers for prostitution. In a now-deleted Twitter message, he spoke last year with kill journalists whom he accused of spies.
In Kabul's private universities, women have been allowed to attend. But they must study separately from men, either in separate classrooms or separated by a curtain across the classroom.
Women need to stay home
The Taliban have enacted similar provisions on women's job opportunities. In the capital Kabul, women employed by the government have been ordered to stay home. Only if a man cannot take over the work, women can report to work.
The Ministry of Women of the old regime has been closed. The facilities have been taken over by a new ministry created by the Taliban, "the Ministry for the Promotion of Virtue and the Fight Against Sins."
This is a ministry that under the first Taliban regime controlled a notorious moral police. Their "bailiffs" roamed the streets harassing anyone who did not follow the dress code and behavior of the Taliban. Among other things, women walking the streets alone ran the risk of being beaten.

www.aftenposten.no