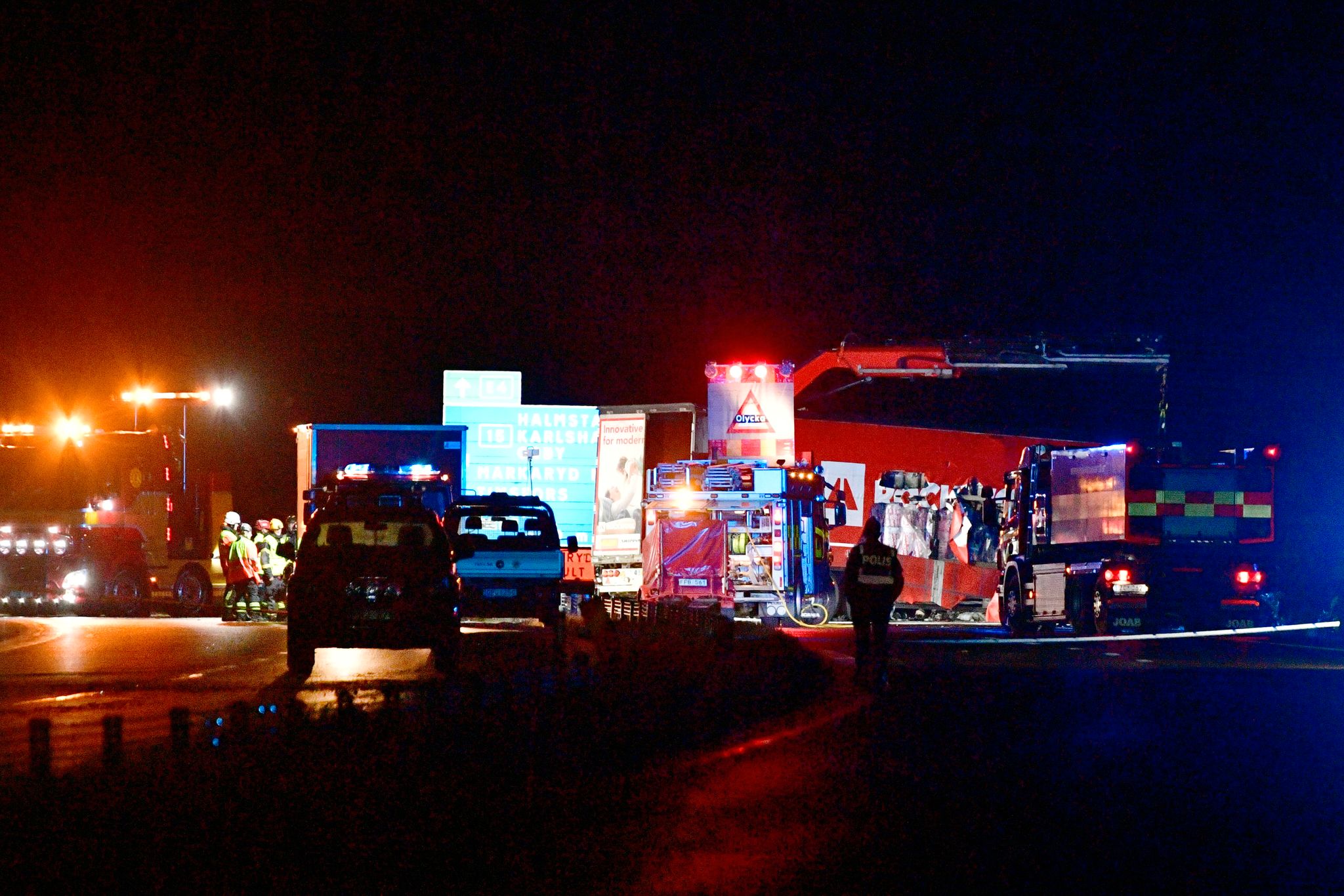 Controversial artist Lars Vilks and two Swedish police bodyguards were killed in a traffic accident on Sunday. Police are investigating the collision as a possible crime.
Swedish artist, art theorist and social polemicist Lars Vilks (75) has died. He and two policemen were killed in a crash on Sunday shortly before 3:30 p.m.
The two policemen and Vilks were traveling in a civilian police car that collided with a truck on E4 on the outskirts of Markaryd in Sweden. The artist's partner confirms death to Dagens Nyheter.
Suspicion of wrongful death
Police launched an investigation on suspicion of wrongful death after the collision, reports Dagens Nyheter.
The car with Lars Vilks arrived in the opposite lane on a stretch where the lanes, according to Expressen, are separated by a chain-link fence.
The rescue service and police have previously stated that it takes a lot for a vehicle to move to the other lane where there are wire fences, Expressen writes.
When the car crossed into the opposite lane, it passed under a truck and both cars caught fire.
Expressen writes that the section of the highway has been rebuilt several times in recent years to increase traffic safety.
In connection with the collision, both vehicles began to burn intensely.
Among other things, Vilks is known for drawing the Prophet Muhammad as a dog in 2007. Since then, he has lived under strict police protection. Al-Qaeda responded by promising a $ 100,000 reward to the person who killed Vilks.
– incredibly sad
Swedish Culture Minister Amanda Lind calls the collision "extremely tragic".
– Lars Vilks has been forced since 2010 to live in freedom because he used freedom of expression and his artistic freedom. So incredibly sad that it ends this way, he writes. Twitter.
Center Party leader Annie Löof calls it "a terrible tragedy"
– I think of the families of the deceased, close relatives, friends and colleagues. Two policemen who never came home after work died on the job defending our democracy, he writes on Twitter.
Jimmie Åkesson, leader of the Swedish Democrats, writes on Facebook that he is devastated by death.
– It is with great sadness that tonight I received the news that the artist and activist for freedom of expression Lars Vilks, as well as two policemen, have died in a tragic car accident, he writes.
Collided with truck
The two deceased policemen were part of the Swedish police personal protection group. This was confirmed by the police themselves in a Press release Sunday.
– It is with horror and great sadness that I receive the message that our two companions and the person we protect, passed away this afternoon. sier The Chief of the National Police, Anders Thornberg.
The accident occurred in Markaryd, which is a town in Småland's Kronoberg county.
It is not clear exactly how the accident occurred. The truck driver has been taken to the hospital and is being treated there.
According to Express the civil police car came from the "wrong side of the road". There he must have collided with the truck, according to the Swedish newspaper.
Attempted murder multiple times
Vilks, 75, has lived under police protection since playing the Prophet Muhammad as a dog, two years after the so-called cartoon fight.
Vilks has been the target of assassination attempts and death threats on several occasions.
In 2010, his home was burned down and two brothers were convicted of the crime. That same year, a man blew himself up in central Stockholm after inciting the murder of Vilks.

In 2010, he was assaulted while lecturing at Uppsala University. Vilks was not seriously injured. Later that year, seven people were arrested in Ireland for conspiring to assassinate the artist.

In 2011, three men were arrested in Gothenburg and later charged with plotting to kill Vilks. They were acquitted.

In February 2015, Vilks was the target of a terrorist attack in Copenhagen and later participated in a discussion meeting on art, blasphemy and freedom of expression. Vilks emerged unscathed from the attack. Danish documentary filmmaker Finn Nørgaard was shot dead and three policemen were injured.
In March 2015, he received the Sapphop Award from the Danish Press Freedom Society for his work on freedom of expression.
also read
In 2016, A magazine interviewed Lars Vilks about the price he paid for the art.
Controversial artwork
He worked from 1988 to 1993 at Statens Kunstakademi in Oslo. From 1997 to 2003, Vilks was a professor of art theory at the Bergen Academy of the Arts.
Before drawing the prophet Muhammad, he was probably best known for the controversial work Nimis.
The plant was built illegally in the Kullaberg nature reserve in Skåne. It is a series of towers built with driftwood.
The artwork is not complete yet. Vilks has declared the area he is in as an independent state which he calls Ladonia.
Authorities tried in a years-long lawsuit to eliminate him. At the same time, the work gradually became a major tourist attraction.



www.aftenposten.no