Rosenborg scores far fewer points against the best teams than the gold competitors. – Reveal a little Rosenborg, says the expert.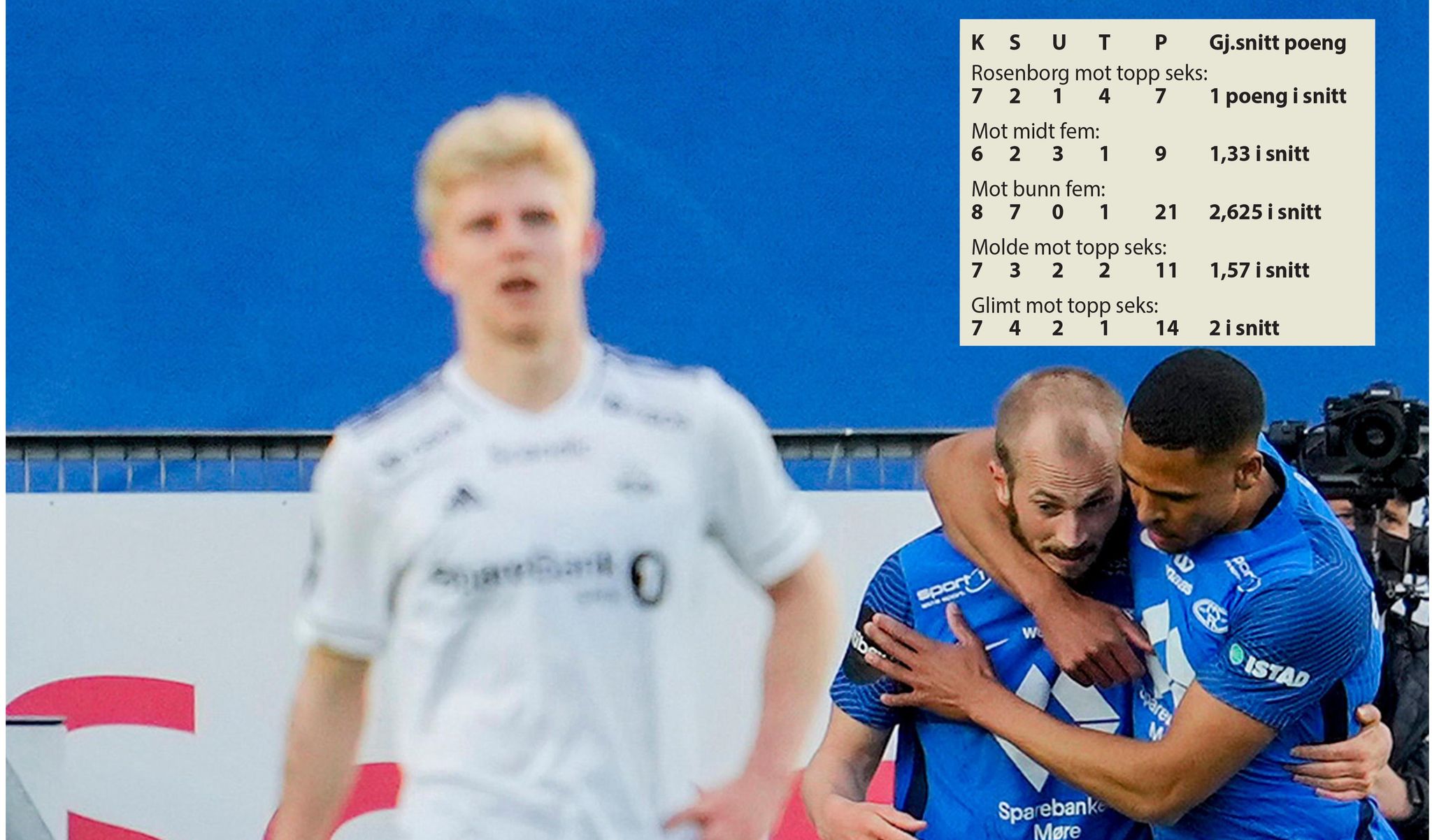 – I'm not surprised, but it says something about how bad it is.
It's Kai Bardal, VG soccer expert, clear verdict on Rosenborg's numbers presented to him by Adresseavisen.
The numbers speak for themselves. RBK is struggling a lot against the other teams that are in the top six in the table. With an average point in the seven games in question this season, he is in stark contrast to Molde (1.57 points) and Glimt (2 points).
It should be noted that both Bodø / Glimt and Lillestrøm remain in Lerkendal this season, but 21 of Rosenborg's 37 points this season have come against teams in the bottom five in the table.
The experts Adresseavisen has spoken to believe it shows a clear picture.
– Miss everything except duel strength
– The way Rosenborg creates things is that the opponent makes a big mistake near his own goal, or that he manages to hit the ball in front of the goal and create enough duels for it to end in a great opportunity. Most teams at the top will make minor mistakes. Even against the supposedly worst teams, it's rare that we see Rosenborg play them, says Kai Bardal.
– Does Rosenborg lack a good basic game?
– They lack everything except the game of duel and the strength of the duel. It's rare to see a single meaningful attack behind him, says Bardal.
– Do a lot on your own
Joacim Jonsson from Eurosport agrees. He points out that RBK relies too much on individual players to deliver.
– The first thing I think is that the numbers say that the bus does not work. Rosenborg beats the worst teams because they are so much better individually. Against those teams, not much is required collectively. Rosenborg has good individual players like Vecchia, Holse and Ceïde and Holm. These are players who do a lot on their own. To divide the best teams, greater collective cooperation is required. It is not the same to break them down by individual skills, says the soccer expert.
– For me, this statistic reveals a bit about Rosenborg, he adds.
– Too early to evaluate
Mikael Dorsin is RBK's sporting director and thinks it is too early to say whether these figures point to specific problems at the club.
– We get a summary when all the games have been played, we have several of these teams left. It is the table at the end that has something to say, says Dorsin to Adressa.
– What do these figures say about Rosenborg in 2021?
– I think it is too early to evaluate one hundred percent when we have not faced all the best teams twice. We have analyzed the results so far and there have been ups and downs in both results and performance in those matches, says Dorsin.
He points out, which is correct, that Rosenborg still have several of the best teams left.
– We must always strive to improve. We want to be better as a team. We have a lot of good players and we want to develop all the time. We have to be a little more stable than we have been during the matches, but it is more general than that, it is necessarily about which teams we meet, says the sporting director.
– What do you need to improve?
– We must become more stable in performance at the top level, because they are high when we work. So we have to go up the lower level when we don't have the day, says Dorsin.
RBK legend Bent Skammelsrud is ready in his speech after what he's seen lately:
– Rosenborg do not win the series with that score against rivals. The most important points are where you play against your rivals, and these stats show that RBK is where it is for a reason.
– The good results also misled me a bit. I thought that RBK had "invented gunpowder" and that things had changed. But everyday life came back a bit abruptly after the losses to Viking and KBK.
– They have something to do
Tor Ole Skullerud was Eurosport's expert commentator during the match against Kristiansund. He believes Rosenborg has made some good moves in recent months that he thinks will pay off in a bit longer time frame.
– The numbers say what I have thought all the way, that Rosenborg has not reached the level that Molde and Glimt have. RBK has proven it in an instant, but it hasn't reached that level yet. So I'm not surprised by that statistic, says Skullerud.
– I think they have something to do. They have made some good moves with a view to rejuvenating the squad and their eleven students. I think they will only benefit from that, but if they already get it this year, I am more insecure, says Skullerud.

www.aftenposten.no