ULLEVAAL STADIUM (Aftenposten): Norway took another step towards the World Cup with a victory over Montenegro.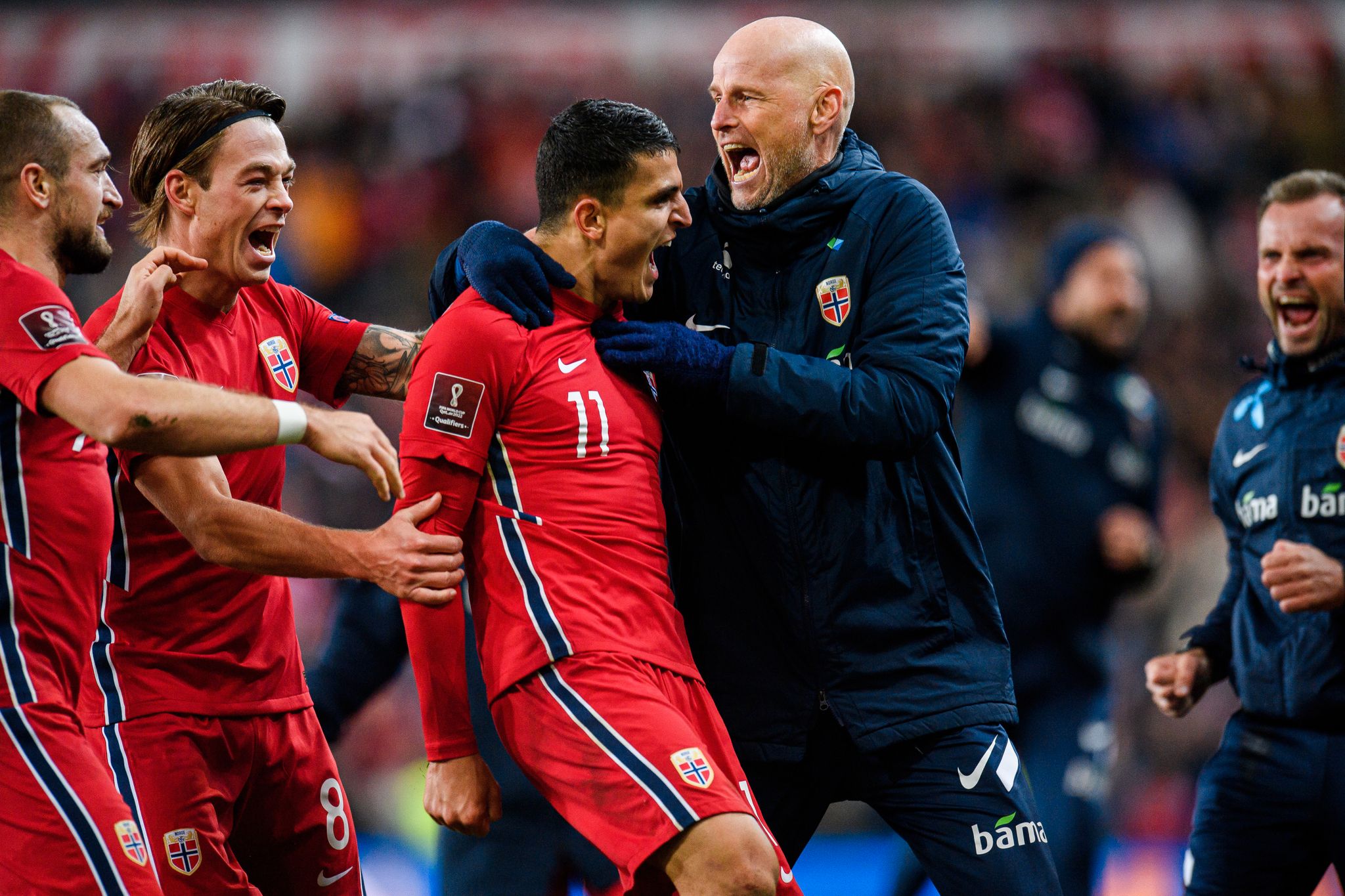 NORWAY-MONTENEGRO 2–0
Ståle Solbakken came buzzing through the cold October wind onto the damp grass of Ullevaal. Then he launched into a big group hug.
The Norway coach took off when Mohamed Elyounoussi secured Norway's 2-0 victory over Montenegro.
– He's crazy, you'll see when we score that goal, says Stefan Strandberg at the post-match press conference.
– It is fantastic to have a coach who gives so much of himself, he adds.
Mohamed Elyounoussi, who also scored 1-0, did not quite understand what was happening.
– I saw Ohi (Omoijuanfo) for the first time. I thought I was hugging Ohi, but then I found out it was Ståle. It shows that you can still run. It was fantastic to celebrate that goal with the whole team.
WE RECOMMEND: How to succeed as a leader? This is the Ståle Solbakken method.
Solbakken: – I am suffering
It is part of history that the 2-0 goal was a great relief. The victory was extremely important for Norway. And Montenegro emerged towards the end and could have drawn quickly.
– How did you feel before the 2-0 goal came?
– It's not a shame to me. But it is quite different from being a club coach. I'll be honest: I'm struggling a bit with that. Because tomorrow I could get them if it goes wrong, check it out and then there's a new match on Thursday or Saturday. That is the difference. Now I see them again in 4-5 weeks, so it's very nice to see them off with a positive experience. So I feel a bit hurt by that, Solbakken tells Aftenposten.
The victory means that Norway is two points behind the group leader Holland. At the same time, there are two points less for Turkey, who saved the victory with a goal in extra time against Latvia. The first place is for the World Cup and the second place is for the playoffs.
– How important was the victory?
– Because it is so even between us, it was alpha and omega. It was a match you could wait for, cut the fear. The fuel tank ran out and we didn't have enough to play. But then we had to have the heart and the organization, and we had it, says Solbakken.
Best in 20 years
The decisive matches arrive in November. Latvia at home and Holland away.
But the Norwegian men's team is already heading towards an unusually strong ranking.
Norway stands with 17 points from eight games. This gives a preliminary average of 2.1 points per. match. Norway has not completed a single qualification, neither for the European Championships nor for the World Cup, with a higher average since qualifying for the European Championships in 2000 (see separate data table).
This was the last time Norway participated in a major championship.
– What we have incorporated into the team is that we can play in different ways depending on who we meet and the image of the game. We have done well, especially considering that we have hardly trained together, says Solbakken at the post-match press conference.
– We are not yet where we want to be, but at least we are on the right track, says Solbakken
Solbakken's movement paid off, again
However, Norway did not stand out from start to finish on Monday night. Montenegro could have spoiled the party for a packed Ullevaal stadium (for the first time since reopening).
Had Adam Marušić had a better touch when he played alone with Ørjan Nylan after the break, Montenegro would have tied. Had it not been for one of the home defenders, Stevan Jovetic would have put Montenegro ahead in the 80th minute with his audacious ball from the right wing.
– The 2-0 result did not reflect what happened on the pitch, says Montenegro coach Miodrag Radulovic at the post-match press conference.
Guests from the Balkans often looked dangerous, especially after the break.
Norway occasionally had trouble creating chances, especially early in the match.
Another dead ball was needed. Marcus Holmgren Pedersen took a corner kick. Stefan Strandberg surprised Mohamed Elyounoussi. He walked easily to the goal.
This was Norway's second set piece goal in two games after set piece coach Bernardo Cueva joined the support apparatus. Cueva has been given free rein to engineer Norway's offensive plays.
At the shooting range
Dennis Johnsen was occasionally healthy when he entered to make his national team debut. He screamed at the hands a quarter of an hour before the end, but the judge rejected the complaints.
Norway's attacking game did not float for the most part. A nervous audience in Ullevaal saw Montenegro prosper.
But the red card from the frustrated Marko Vesovic made Norway's final minutes easier.
The agreement never came. Instead, Mohamed Elyounoussi scored a new goal, a magnificent shot in the lower right corner.
Norway's players cheered outside on the grass. The fans cheered with them.
– The feelings that we get there, along with them, you cannot experience anywhere else, says Stefan Strandberg.
Do you want to read more about the national team?

www.aftenposten.no