A full alarm was sounded when Øystein Pettersen (38) arrived at Lillehammer Hospital last week. While waiting for the air ambulance to take him to Rikshospitalet, he called his wife Ellen. – I love you. Watch out for the kids, said the Olympic winner.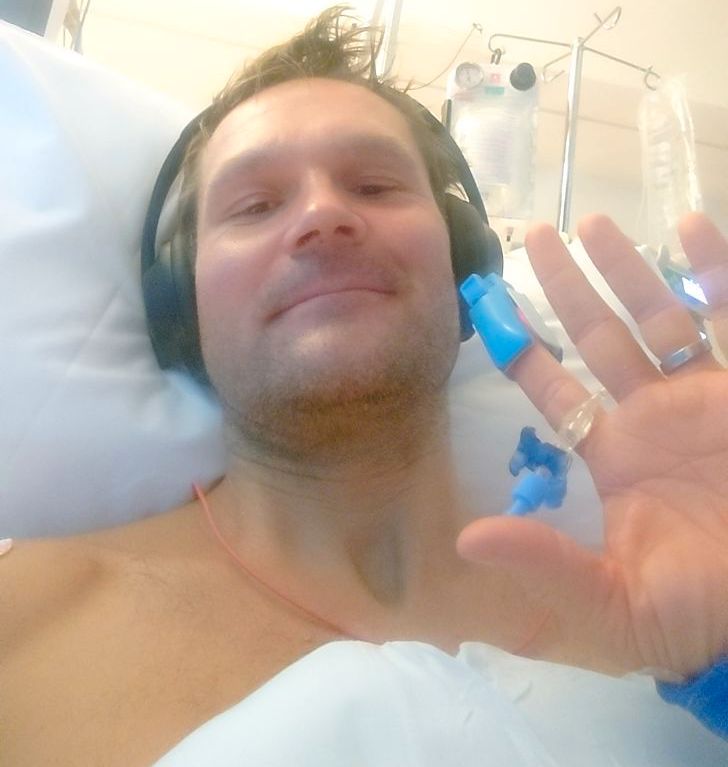 Aftenposten collaborates with VG-sporten. Therefore, as a reader of Aftenposten, you also get articles and services created by VG.
Cross-country skier Øystein Pettersen suffered a severe headache during a bike ride last Thursday morning. A few hours later, it was determined that he had had a bleeding headache.
The day had started well for the man from Oslo, who moved to Lillehammer with his family. The 38-year-old man, often called "Pølsa", had taken the children to school and completed a project. I had a few hours to spare before recording podcasts.
– He had a hat under his bike helmet. It was cold. Then I had a real headache. Is there a problem with the helmet? Does the helmet tighten? I raised the screw that tightens the helmet. It didn't work, says Øystein Pettersen on the podcast "Good Morning", which he has with his friend Hans Olav Ingholm.
– I face a challenge
VG has listened to the strong podcast coming out on Friday (today) and received permission to reproduce the content.
Pettersen was released from the hospital on Wednesday. You have decided that it will be as it was before this happened. But he's wildly honest on the podcast that he doesn't know when it will happen.
– I face a real challenge (…). I will come out strengthened. I don't know how long it will take. A month, half a year, or a year, says Pettersen.
Return to the bike ride. Pettersen realized it was just a matter of getting home. As fast as possible. He parked the bike and took off his helmet.
– Then it was almost as if I was shot in the head, says Pettersen.
The Olympic winner, the team sprint with Petter Northug in 2010, had to close his eyes. When he moved, he vomited in pain. He wondered if it could be low blood sugar. He drank some sports drinks, ate at a sports bar, and lay in bed. He vomited again.
According to lommelegen.no the condition is very serious and the mortality from subarachnoid hemorrhage (meningeal hemorrhage) is high, about 20-40% die before even reaching the hospital.
The retired elite athlete vomited as his eyes lit up. He vomited when he moved. He called a friend who is a doctor and more or less a neighbor. Soon after, he was in the emergency room at Lillehammer Hospital. The CT scan (an image taken of specific areas of the body using X-rays) revealed bleeding in the head. He was flown to Rikshospitalet.
– I spoke to Ellen. I said: I love you, take care of the kids, says Pettersen on the podcast.
Lots of vomiting
He arrives at Rikshospitalet with a new round of vomiting. He had had a meningeal hemorrhage. But the doctor does not find any wound in the meninges. Avoid surgery. On Friday a week ago they informed him that he was out of danger. It is going well.
In Rikshospitalet, the 38-year-old man shares a room with five other people for a period. He points out that he has been lucky. Talk about an experience that puts life in perspective.
– Those who survive may become lethargic. There are many who do not survive. It's just luck. There are margins. It hurts to be there to be completely ready. I was lucky, says Pettersen on the "Good Days" podcast.
You need to relax and lie down a lot. He has gone up the stairs a bit. On Thursday he was walking for 20 minutes.
– It's actually pretty good progress, considering the situation, Pettersen tells VG.
I did not think of the olympic gold
It pays tribute to the Norwegian health service and cleaning workers. The father of two has thought a lot in the past week, because he has been ready the entire time. When I was in the helicopter, I had zero thoughts on Olympic gold. He thought of those he loves, those with whom he has a relationship. The time that has passed.
– You have to seize opportunities and take care of the people you love, says Pettersen.
Soon it is winter. Here you can recharge with some tips from Øystein Pettersen before finding your skis:

www.aftenposten.no