Norway's new Minister of Climate and Environment will have the heavy task of reducing emissions by seven percent annually. Espen Barth Eide says that he will negotiate with the other ministers with the emissions, as if it were money.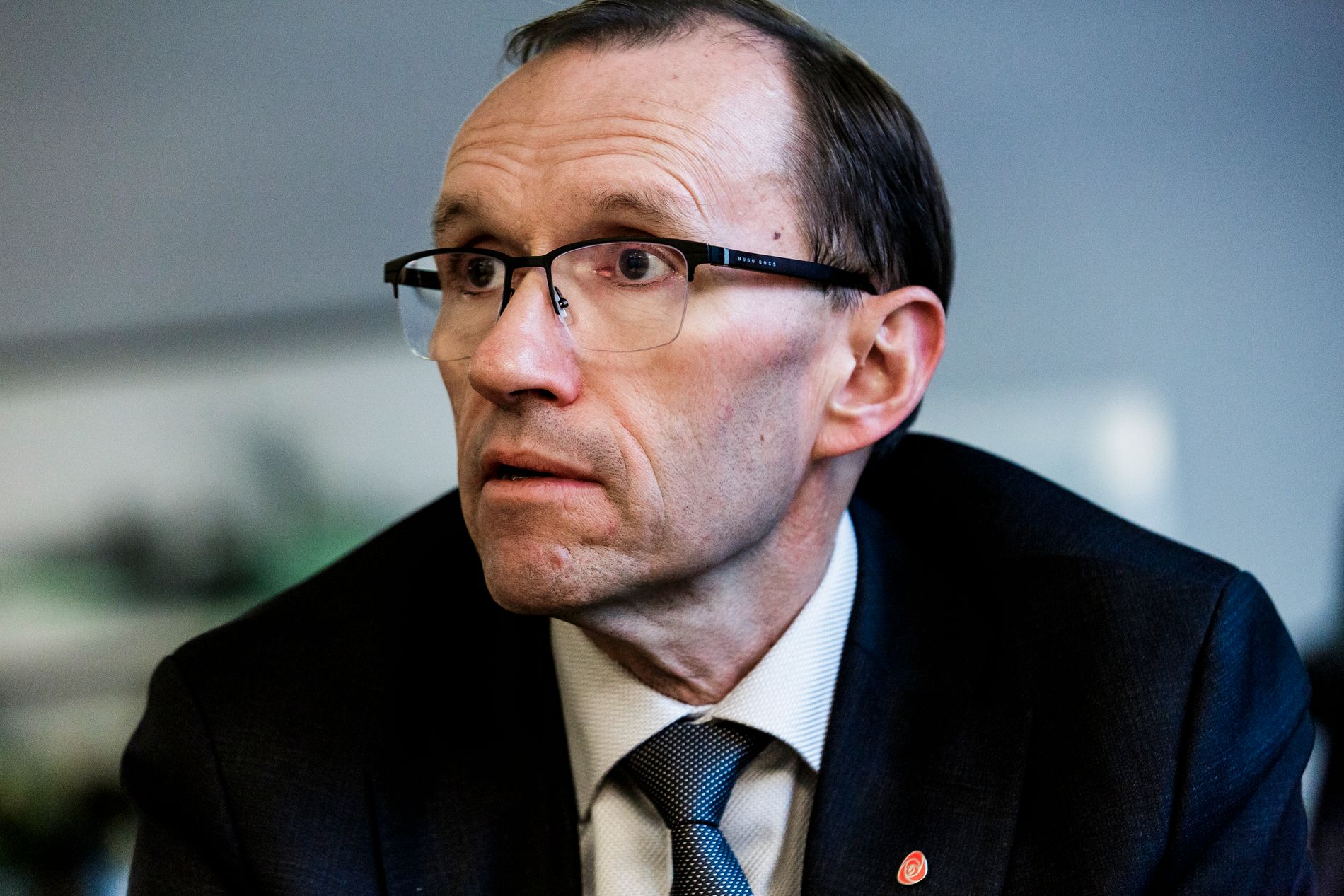 – We will develop more energy. Water, sun and wind. In that order, Espen Barth Eide tells E24.
It is the simple answer to how the recent Minister of Climate and Environment will deal with the electricity crisis and the lack of energy development to move the heavy emissions industries green over the next ten years.
– On land and at sea. We can't escape without more wind, he says.
The former defense and foreign minister leans forward in his new office, colorful bouquets of flowers in a row behind him.
In a clear voice, Eide explains whether the green transition Norway will go through and what industries he believes Norway should build on for this to happen.
Aluminum and steel must be emission-free for Norway to compete with Sweden. Norway will focus on green shipping, electric transport and hydrogen. Hydroelectric plants will be upgraded and solar and wind power developed.
Eide has been Minister of Climate and Environment for just over a week. And you have little time to waste.
Strong cuts are needed
In a few days, top world leaders will meet at COP26, the climate summit described as "the most important since the Paris Agreement."
– This will be our first major international meeting and of course we will use it to make it clear that this government is raising its ambitions at home, says Barth Eide.
The Støre government has promised to cut greenhouse gases by 55 percent by 2030. And the cuts will be made in Norway.
To achieve the goal, emissions must be reduced by up to seven percent each year.
– How will the new government manage?
– We have an emissions budget that we can pay every year. Who can be allowed to escape? If someone has a good, solid political argument to protect someone, then they can do it, but then they have to help indicate where it can be cut elsewhere, Eide says.
Part of Eide's strategy is to negotiate with other ministries over the emissions budget, as if emissions were money.
Together with the Ministry of Finance, it will calculate what the carbon budget will have to say for different sectors.
The renewable transition
More than 80 percent of Norway's emissions come from three major emission sectors: transportation, production, and oil and gas industry. Therefore, most of the cuts must be made there.
The Støre government wants to electrify the platform with offshore wind, provide incentives for more electrical transport and develop more renewable energy in order to restructure the energy-intensive industry.
– We will try to find the niches in which we can be the best, says Barth Eide and points to industries related to offshore wind energy and emission-free fuel for maritime transport.
When asked which industries will receive subsidies, the minister responds that the state can do much more than provide financial support.
– It's a bit simplistic to think that active corporate policy means "being so good." It's the orders, bans, rules, standards, public procurement and infrastructure that should drive green change forward, he says.
also read
The requirements for the green billions: – Do not give free access to the credit card.
To be continued with fossil
When asked if continued oil exploration could weaken Norway's position as a green pioneer country during the climate summit, Eide notes that "a huge change has not been made overnight."
– We must use less energy, produce enough renewable energy and then use renewable energy in all sectors. The real challenge lies on the demand side, says Barth Eide.
At the same time, he admits that Norway must accept that the current business model will be redundant and that Norway must build what will replace the oil sector.
– As you do?
– It is through an active and green business policy, says Eide.
Conflict between good considerations
– Now that you are Minister of Climate and Environment, how will you relate to the conflict that has been and will continue to be, in terms of wind, road, cabin camp?
– There is a conflict between good considerations. We will harvest from nature and live with it and from it, but we must improve in the management of natural values ​​and understand that it is a cost to maintain them, says Eide.
The new government will analyze the accounts of nature and carry out a natural risk assessment, as we have done previously with climate risk.
– Then you will finally make concessions as you do with your normal finances. Some of the most important things for the next four years are getting off to a good start with the carbon budget and this with appreciating nature, he says.
– Can we recognize that the green switch will cost most people?
– Yes absolutely. Of course. Green change comes with loads and benefits. Things associated with emissions will eventually get more expensive. But then it is important to remember that it is a rate that we would prefer not to have, because we would prefer not to have emissions, says Eide.
– The wet dream of a minister of ecological finance is to wake up one day and experience that no money is coming, because emissions have ended, he says.
I think China will surprise
According to Eide, the new government will announce new measures at the next climate summit, but will not reveal what kind of measures.
– The bigger goal is to help keep the 1.5 degree goal the same, he says.
The Støre government wants a clarification of the deal that sharpens the target by two degrees.
– We have obtained more information after the Paris agreement and we know that there is a significant difference in the result if the world goes from 1.5 to 2 degrees; Many tipping points can already occur there, says Eide.
Barth Eide believes that a clarification of the 1.5 degree target may trigger more radical behavior, because the remaining carbon budget will be less.
– Who do you think he will surprise during the climate summit?
– I hope China surprises. They come up with something, but the question is whether it is enough.

www.aftenposten.no