Gilde's star bacon has lost weight from 160 grams to 120 grams. However, the price has increased by almost 8 percent.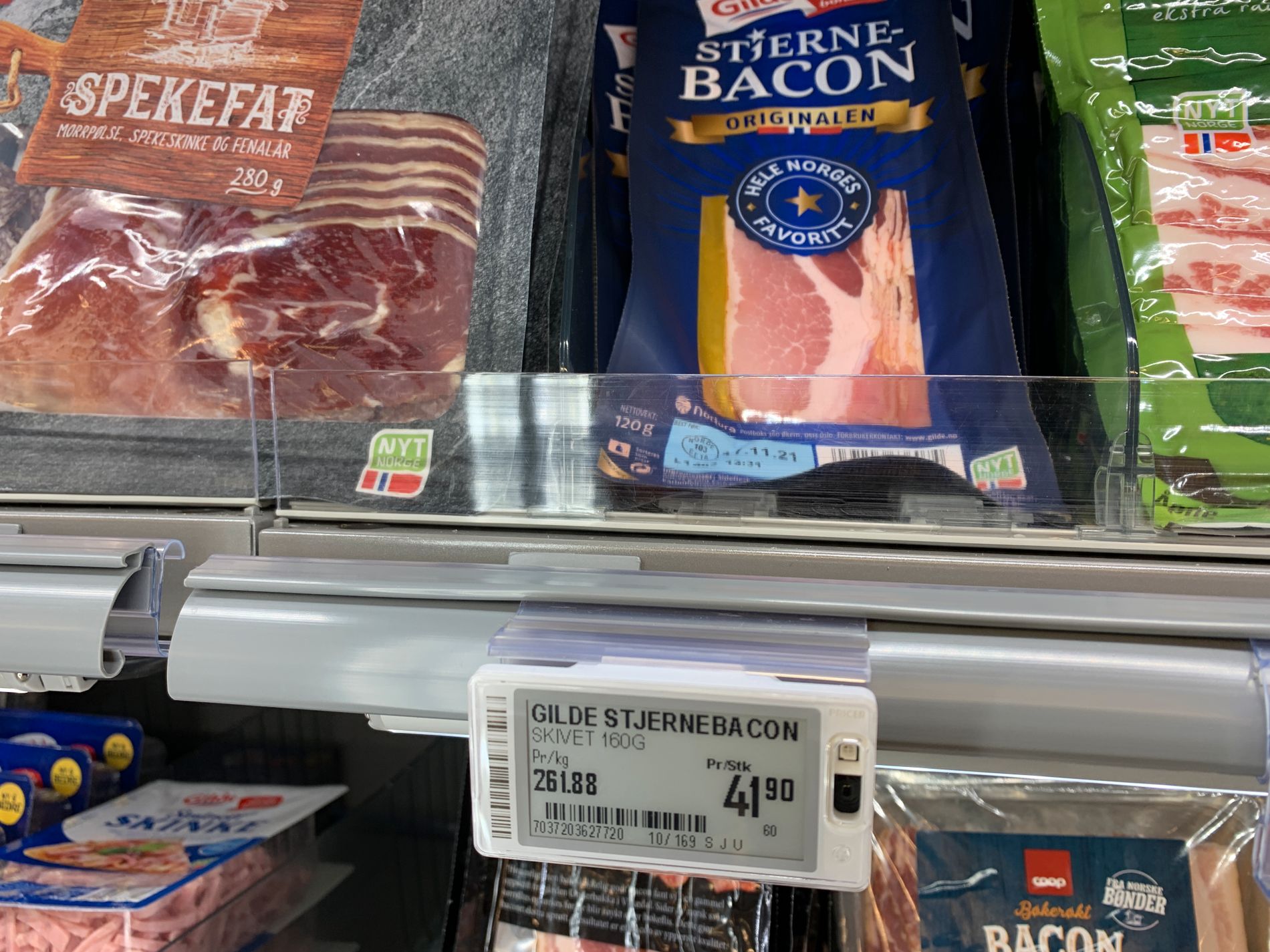 A package of Stjernebacon from Gilde has lost 25 percent in weight, while the price per kilo has also increased 7.9 percent.
Show random samples at Coop Prix stores in Oslo. The change occurred during the month of October.
The 120 gram price at Coop Prix was set at NOK 33.90, down from NOK 41.90 for the previous 160 gram package. Therefore, the price per kilo has increased from NOK 261.8 to NOK 282.5.
This is happening as overall food prices are forecast to increase dramatically in the near future.
The images sent to E24 show that Star Bacon packages during October have gone from weighing 160 grams, to 140 grams, to now contain only 120 grams of bacon.
also read
Product price rises: many fear a harsh winter
According to The online newspaper it cost 160 grams of Star Bacon 32.60 crowns at Coop Extra in January this year. Now 120 grams cost 33.90 crowns, E24 samples show.
In a Kiwi store in Oslo, a similar package costs NOK 24.30, while in a Rema 1000 it costs NOK 28.60.
Increased prices along the way
Last weekend, Orkla announced in an interview with Today's business that the prices of raw materials have risen to 70 per cent and that, therefore, the prices of food will also increase in price.
The price increase on the payment voucher may have an effect on the price adjustment that is usually made during the New Year, DN reported.
But some of the price increases seem to be already available in stores. The measure to reduce the content of the package while maintaining the price is called in English «contraction"(" Inflation by contraction "), according to The Guardian.
This is now a current problem in the UK, where consumers are experiencing rising food prices in addition to an ongoing supply crisis.
French fries packets, mozzarella cheese and washing powder are among the products that now weigh less, but cost the same in the UK, according to the newspaper.
Consumers Council: Check price per kilo
Olav Kasland, director of the Consumers Council, does not want to go into the specific example of Stjernebacon, but emphasizes the importance of consumers controlling the price of what they buy.
– This is another proof that you have to look for the price of the peso and not the unit price, because it can go up and down, he says.
– It should be noted what the price per kilo is, and that is what you should compare.
Kasland points out that the weight of a product can vary and that it depends on more than price; sometimes it depends on the demand.
– Then there are other variables besides "cheating" the consumer. But it can also happen because the consumer does not take sufficient care of the kilo or liter prices. Then they manage to get money out of him. So there are both, says Kasland.
Read on E24 +
The Economist: "The contraction of inflation" upsets the models of economists
– But the "bottom line" is that consumers should be price conscious and check the price per kilo and per liter. That is what you have to compare.
Kasland encourages consumers who discover such price increases to look to the store's competitors.
– When you see such things happening, you go to the competitor. As in the banking market, or in all markets, it is incredibly important to be a conscientious consumer. Loyalty in these markets will ultimately affect the consumer, he says.
also read
Food prices can rise sharply due to rising raw material prices
– No Coop that gets rich
Harald Kristiansen, Head of Communications at Coop, explains that the relative price increase comes from the producer in Stjernebacon.
– The reason for the change is that Gilde, who is a supplier to Stjernebacon, has withdrawn the 160 gram package and replaced it with a 120 gram package, at the same time that we have increased the price per kilo, Kristiansen writes in an e . -mail.
– What do you mean to the claims that it is "contraction inflation"?
– That question should be directed to Gilde, we do what we can to keep prices as low as possible while caring about having the packaging that customers want. On our part, there was no desire to reduce the package size from 160 to 120 grams, says Kristiansen.
– Who benefits from this change?
– We never comment on our purchase prices, but it is not Coop who is enriched by this change.
Nortura owns the Gilde brand.
– We have changed to 120 grams to better adjust the weight compared to competitive products. When it comes to consumer prices in stores, it is set entirely by supermarket chains, writes senior marketing manager Bente Avseth-Bakke at Nortura in an email sent to E24.
– But Coop says that Gilde has raised the price per kilo for them. Is this correct? And is this a form of "contraction inflation"?
– In addition to the fact that we have analyzed competitive products, it is also a factor that there is a shortage of raw materials in the underlying market, writes Avseth-Bakke.

www.aftenposten.no